August Events 2019
Sisel Melbourne Event
Time: Sunday 4 August 4 – 7 pm
Product Tasting & Training Event
Sunday 4 August – 4:00pm-7pm Highett. Victoria. Light dinner included. $5.
RSVP. Katie 0422 53 8801. katie.larking@gmail.com –
How to improve the absorption of your nutrients and supplements? Find out more.
COME ALONG, BRING YOUR FRIENDS and be pleasantly surprised on how simple this can be. BE INSPIRED BY STORIES AND TESTIMONIES.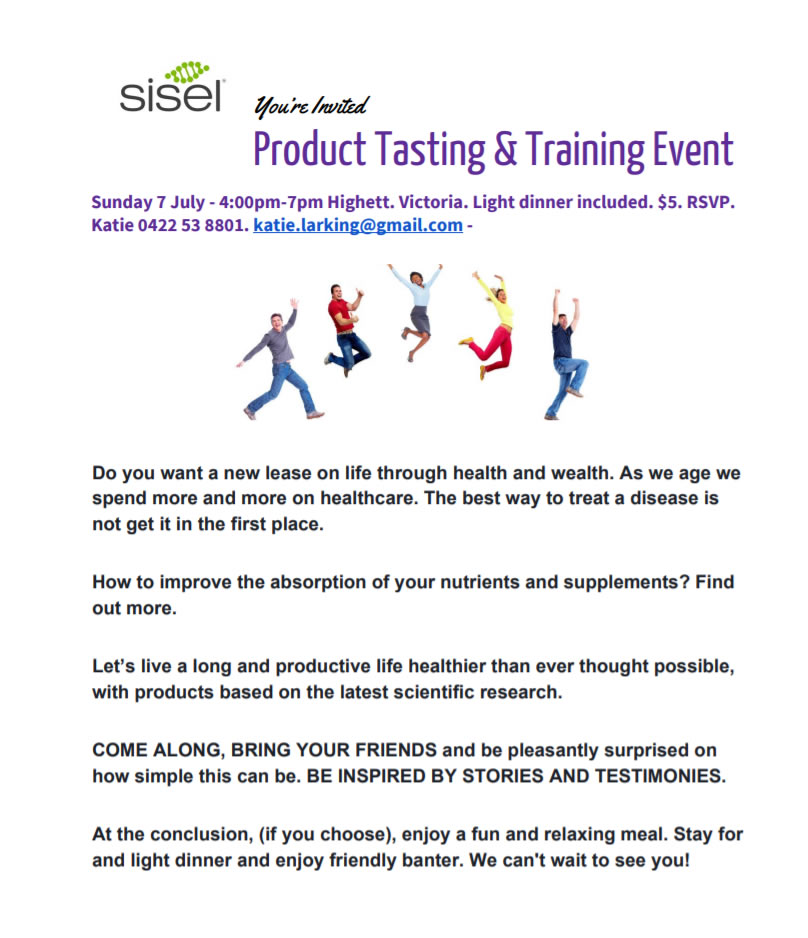 Brisbane Queensland Sisel Event
Do you want a new lease on life? Through health and wealth. As we age, we spend more and more on health care. The best way to treat disease is to not get it in the first place.
So, let's live a long and productive life healthier than ever thought possible. With products based on the latest scientific research.
Cçome along, bring your friends and be pleasantly surprised at how simple this can be.
Be Inspired by stories and testimonies.
Saturday 13th June
Zillmere Hall
52 Murphy Rd, Zillmere Qld
1.30pm to 4.00pm
Contact: Sandy Biltoft 0413008194 sandybiltoft@gmail.com
Guests free Members $10 entry