Price

$58 USD Customer Price | $53 USD Distributor Price
Applies to USA, Canada, Australia, New Zealand, UK United Kingdom, and Taiwan
Price other countries (click to expand)
Austria Distributor Price 55,90 €
Austria Customer Price 61,50 €
Belgium Distributor Price 55,90 €
Belgium Customer Price 61,50 €
Bulgaria Distributor Price 55,90 €
Bulgaria Customer Price 61,50 €
Czech Republic Distributor Price 53,50 €
Czech Republic Customer Price 58,90 €
Denmark Distributor Price 55,90 €
Denmark Customer Price 61,50 €
Estonia Distributor Price 55,90 €
Estonia Customer Price 61,50 €
Finland Distributor Price 55,90 €
Finland Customer Price 61,50 €
France Distributor Price 55,90 €
France Customer Price 61,50 €
Greece Distributor Price 55,90 €
Greece Customer Price 61,50 €
Hungary Distributor Price 14 740 Ft
Hungary Customer Price 16 214 Ft
Ireland Distributor Price 57,50 €
Ireland Customer Price 63,50 €
Italy Distributor Price 56,90 €
Italy Customer Price 62,50 €
Latvia Distributor Price 56,50 €
Latvia Customer Price 62,50 €
Lithuania Distributor Price 55,90 €
Lithuania Customer Price 61,50 €
Luxembourg Distributor Price 55,90 €
Luxembourg Customer Price 61,50 €
Malta Distributor Price 55,90 €
Malta Customer Price 61,50 €
Netherlands Distributor Price 55,90 €
Netherlands Customer Price 61,50 €
Poland Distributor Price 55,90 €
Poland Customer Price 61,50 €
Portugal Distributor Price 55,90 €
Portugal Customer Price 61,50 €
Romania Distributor Price 55,90 €
Romania Customer Price 61,50 €
Slovakia Distributor Price 55,90 €
Slovakia Customer Price 61,50 €
Slovenia Distributor Price 55,90 €
Slovenia Customer Price 61,50 €
Spain Distributor Price 55,90 €
Spain Customer Price 61,50 €
Sweden Distributor Price 58,50 €
Sweden Customer Price 64,50 €
Deutschland Distributor Price 49,90 €
Deutschland Customer Price 54,90 €
Where can I purchase Sisel Brain Vitality?
Click here to order and create an account as a preferred customer or distributor. Order Sisel Brain Vitality online. Distributors pay an average of 10% less than customers. You can order online from any country where Sisel products are sold.
By ordering through this site you will get the following benefits:
Assistance ordering online (should you need help) +61 422538801 or email

[email protected]

Product support 7 days a week
Exclusive invitation to our product training group to learn more about the products
Weekly updates and stories about the benefits and unique aspects of Sisel products
Product knowledge training, and information from myself as a Nutrition and Health Coach and my sponsor, Dr Curt (Chiropractor) who has extensive product and health knowledge
Opportunity to work towards getting your products for free and being supported by the fastest growing online Sisel team globally.

About Sisel Brain Vitality
Sisel Brain Vitality is now better than ever! New breakthroughs in science have led to the use of Curcuma Ionga (rhizome) extract in brain supplementation. This extract provides the same beneficial nutritional support of traditional root turmeric extract, but is 6-8 times more bioavailable. This means that the body is capable of absorbing much greater levels of Curcuma Ionga to drastically increase the nutritional support for the brain. This high concentration of absorbable curcuminoids has also lowered the recommended amount of capsules per day from 4 to 3.
Fenugreek Galactomannans Exract has also been added to the new formulation. Fenugreek contains the compound trigonellene which may support the stimulation and regeneration of brain cells. In addition to this, Fenugreek has also been shown in studies to support a great number of biological processes in the body.
Give your brain and body the unparalleled support that can be gained through the addition Curcuma Ionga and Fenugreek Galactomannans Extract. These supplements, combine with Citricholine Sodium, Magnesium Threonate, Bacopa Monnieri Extract, and the rest of the proprietary blend provide more nutritional support for the brain than any other product on the market.
Features and Benefits
Supports blood circulation for brain health*
Encourages the receptors important for cognitive abilities*
Contributes to brain plasticity*
Helps with focus, concentration and memory*
Supports the stimulation of brain cells*
Provides nutritional brain support*

Directions for use
Take 3 capsules per day with water.
Ingredients List
Serving Size: 3 Capsules
Servings Per Container: 30
Vitamin D 20 mcg 100%
Vitamin B5 10 mg 588%
Folate (as folic acid) 400 mcg DFE 100% (240 mcg folic acid)
Magnesium (from Magnesium Sulfate) 20 mg 5%
Proprietary Blend
1300 mg ††
Citicoline Sodium, Magnesium Threonate, Curcuma longa (rhizome) Extract and Fenugreek Galactomannans Extract, Bacopa Monnieri (herb) Extract, DMAE Bitartrate, Phosphatidylserine, Black Pepper (fruit) Extract, Szechuan Pepper (fruit).
† Percent Daily Values are based on a 2,000 calorie diet †† Daily Value not established
OTHER INGREDIENTS
Microcrystalline Cellulose, Vegetable Capsules, Vegetable Fatty Acid, and Silica.
Ingredients Label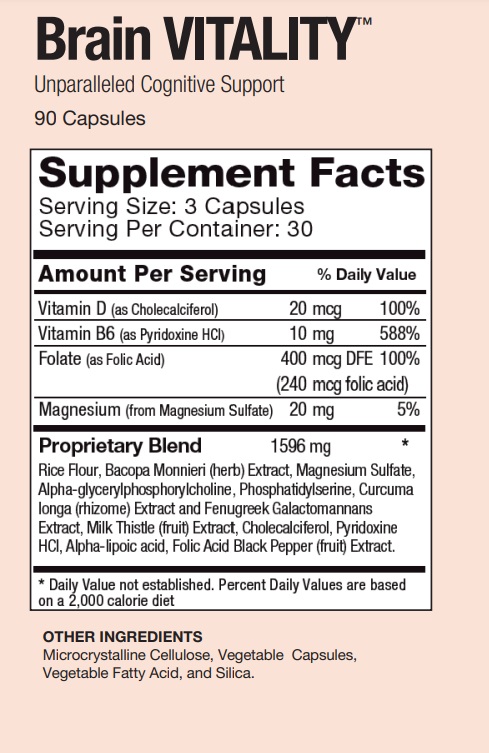 Caution
If you are pregnant, nursing, taking prescription medication, or have a pre-existing medical condition, consult your healthcare
provider before taking this product. Do not use if tamper evident ring or seal is broken or missing. Keep out of reach of children.
Testimonial and Reviews
Please email me for testimonials about this product: Sisel International Distributor, Nutrition and Health Coach Katie – [email protected]
Additional Information
Sisel Safe
Gluten Free
Dairy Free
Soy Free
Vegan Friendly
Vegetarian Friendly
Low Glycemic
No Animal Testing
Factsheets and Brochures
Sisel-Brain-Vitality-Product-Brochure
Sisel-Brain-Vitality-Product-Sheet
Related Videos
Related Pages
Disclaimer
These statements have not been evaluated by the Food and Drug Administration. This product is not intended to diagnose, treat, cure, or prevent any disease.
Last Updated on June 24, 2023 by Katie Sisel Distributor