The birth of a Mission…The Mower Mission…Neways to Sisel
Tom Mower: "I was an industrial chemist making industrial chemicals, always researching for new discoveries"
"In the process, I found one in skin cancer research, where they were rubbing ointments on men's scalps to try and arrest skin cancer. it didn't work for skin cancer, but hair started to grow. It had nothing to do with the cancer agent, it was actually a cosmetic emulsifier that dissolved the hormone that caused the hair to fall out."
Dee Mower had success with the the product when her own son experienced early baldness, and word go out. "People started knocking on our door," she says. "From all over the neighbourhood!" adds Tom. He continues, "Some of them were actually network marketers, and wanted to take the product to their companies. it started out that small. Build a better mousetrap and the world will beat a path to your door."
Neways, originally named "Images and Attitudes", was founded in 1987 by Tom and Leslie D. Mower. The company was renamed to Neways in 1992. 
"They said, 'Tom start a company! You've got these great products!" At that point, I had only a product for hair loss and shampoo that went with it."
The Mowers quest for safe and effective products began with the something that simple – shampoo.
Recalls Tom: "I was stunned. I had never really looked at the shampoo I was using: when I read the ingredients, I said, 'Great Godfrey! That's what I put in the garage floor cleaner and slaughterhouse degreaser! These ingredients are not only toxic, they are damaging to the membranes of the skin. They can damage organs. how can they make shampoo form this stuff?"
"That put me on a mission. I reformatted a shampoo that didn't use any toxic ingredients, which was tough to do, because the whole industry is designed around these 'potentially harmful' ingredients."
As the mowers' business grew, so did their desire to root out and improve hazardous personal care products. Tom's next target: wrinkle creams. " I didn't know anything about wrinkles. I started looking into it and found the same old horror story." Dee says, "The ingredients were so harmful – we wouldn't allow our workers down at the plant to get them on their skins." Tom recalls thinking, "this thing is a nightmare! it's a bottle of toxins."
Tom mower began exhaustive scientific study – what was to become one of the hallmarks of his previous company Neways. "I started doing worldwide research and found a discovery in South America that was an essential oil, from a seed that grew only in the Andes. It had been used for thousand of years by the native population to treat skin ulcers and burns. It caused them to heal fast and virtually scar-free. The University of Concepcion in Chile was using it to treat burn victims and having tremendous results. in the process of doing clinical studies, they listed any side effect, and they said that in healing burns, wrinkles were being significantly reduced."
"From there, I came to the consulting that there must be a world of scientific research out there, of powerful, safe, effective products that are not getting to to the market place."
Tom Mower had found his calling and it became the driving force of Neways.
[Reference: Extracts taken from Networking Today Issue 3]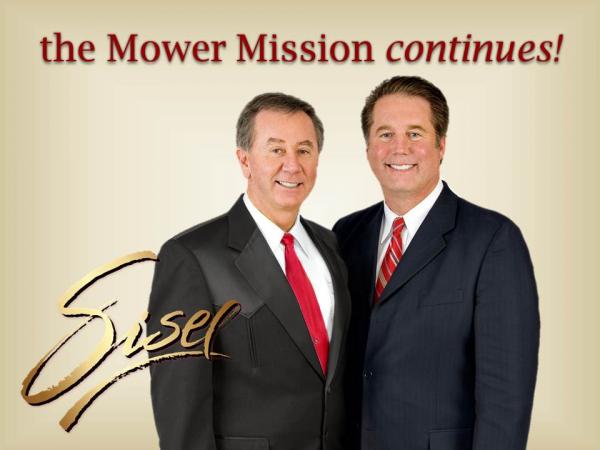 Sisel's Toxic Free Products – The heart of the Mower Mission
New Beginnings… The Mower Mission Continues with Sisel
Tom sold Neways in 2006 to capitalize on what he considered some of the most important discoveries in human health and to launch what he deems the best business opportunity in history, Sisel International.
Tom Mower Junior was instrumental in helping his father, Tom Mower Sr., build Neways into the giant success it became and has been invaluable in launching Sisel into its current momentum as one of the fastest growing Multi Level Marketing Companies in the industry
Sisel International's mission to create health, wealth, and happiness for Sisel's distributors and consumers throughout the world, by providing life-giving products and success-oriented opportunities.
Utilizing evidence-based, high-performance ingredients, Sisel produces products that are known for being more powerful than any products Tom Mower has produced before. These highly advanced products are developed in Sisel's state-of-the-art research and development laboratories and produced in Sisel's world-class manufacturing facility.
Sisel's products are free from potentially harmful ingredients commonly found in any other brands of personal, skin, and hair care formulations. This is the Sisel Safe promise. Sisel products are intensely formulated to greatly exceed expectations for life extension, youthful regeneration, anti-aging, abundant energy, and vibrant health.
Combining fabulous products with Sisel's generous compensation plan means the greatest opportunity for enterprising people everywhere.
As a previous Neways distributor and lover of of the Mower Mission and Neways products, I was lost for words after discovering Sisel's products and generous compensation plan.
The late Tom Mower Sr's Personal Invitation to Join Sisel International
The Mower Mission Continues 2023 – Mower Family  -Invitation to join Sisel
Last Updated on June 25, 2023 by Katie Sisel Distributor