Price
Applies to USA, Canada, Australia, New Zealand, UK United Kingdom, and Taiwan
$23 USD Customer Price | $21 USD Distributor Price
Price other countries (click to expand)
Coming soon
Where can I purchase Sisel Cucumber LIME Hand and Body Wash?
Click here to order and create an account as a preferred customer or distributor. Order Sisel Cucumber LIME Hand and Body Wash online. Distributors pay an average of 10% less than customers. You can order online from any country where Sisel products are sold. 
By ordering through this site you will get the following benefits:
Assistance ordering online (should you need help) +61 422538801 or email

[email protected]

Product support 7 days a week
Exclusive invitation to our product training group to learn more about the products
Weekly updates and stories about the benefits and unique aspects of Sisel products
Product knowledge training, and information from myself as a Nutrition and Health Coach and my sponsor, Dr Curt (Chiropractor) who has extensive product and health knowledge
Opportunity to work towards getting your products for free and being supported by the fastest growing online Sisel team globally.

About Sisel Cucumber LIME Hand and Body Wash
The NEW cucumber lime hand soap from Sisel International is a refreshing way to keep your hands clean. A healthy, bacteria-free, moisturising handwash. A little goes a long way!
Why use Sisel's Cucumber Lime Hand Soap
As we age, our skin starts to deteriorate from sun exposure, toxins and simply the aging process. We use our hands every day. We can encounter all sorts of chemicals on a daily basis and hands are generally exposed to a lot.
Even when you use a normal hand wash in the bathroom, you are still potentially exposing your hands to toxins and chemicals that break down from the plastic container and the actual soap itself. Do you know exactly what's in your hand wash and how it's protecting your hands? With the new Sisel Cucumber Lime Hand Soap, you'll know the exact science behind the product.
Other Hand Santizers that contain Triclosan and Triclocarban
Recently banned by the FDA, the active ingredients in many antibacterial hand sanitizers. These include triclosan and triclocarban. In addition, they have not been proven effective and even harmful in some cases.
With most of the industry using these potentially harmful substances, sanitizers, in general, are being scrutinized more closely. For example, Research suggests that triclosan "contributes to making bacteria resistant to antibiotics," as well as other studies pointing to the adverse effect this ingredient can have on certain hormones.
Even more worrisome is that these same ingredients are listed as ingredients included in pesticides.
Sisel's Cucumber Lime Hand has all Natural Ingredients
This is the power of pure, natural ingredients. Silver protects your hands and promotes the growth of new cells. Cool meets citrus in this explosion of natural ingredients, bringing you a fresh hand-soap.
*These statements have not been evaluated by the Food and Drug Administration. This product is not intended to diagnose, treat, cure or prevent any disease.
Features and Benefits
Fresh cucumber lime scented liquid handwash in pump bottle.
Colloidal silver. This incredible metal has been used for centuries for a myriad of cleaning and healing purposes.
Strong purifying properties
• Washing away residues and contaminants
• Cleansing of wounds and sunburn
• Use for acne cleansing support

Contains monolaurin to provide support for bacterial-resistance.
Contains chlorophyll for odour elimination, blemishes and breakouts.

For use on your hands and everywhere else on the body.
Liquid Hand & Body Wash provides you with an incredible level of effectiveness against dirt, odors, oils, and other substances that are unwanted when combating blemishes, blackheads, acne, and other skin issues.
The brand-new lime and cucumber handwash, developed by Tom Jr and Leisel Mower, is a fantastic product that's a step ahead of any Sisel handwash product created before.
The new formula contains monolaurin, chlorophyll and colloidal silver for protection. Many of us are concerned with potent bacterial threats every day. We need a product that we can trust. Being both safe and effective.
Silver is known for antimicrobial properties and being a low-toxin metal. Currently, the advanced hospitals around the world use silver-embedded equipment. Silver ions inhibit bacterial growth. When bacteria are in contact with colloidal silver, they cannot form the chemical bonds they need to thrive. Reference
(PLEASE NOTE WE CANNOT MAKE ANY CLAIMS REGARDING SILVER IN THIS PRODUCT)
Directions for use
Ingredients List
265 ml / 9 fl oz
INGREDIENTS
Water (Aqua), Decyl Glucoside, Butylene Glycol, Disodium Laureth Sulfosuccinate, Phenoxyethanol, Lime Juice, Cucumber Juice, Xanthan Gum,
Sodium Lauryl Sulfoacetate, Caprylyl Glycol, Citric Acid, Fragrance, Ethylhexylglycerin, Potassium Sorbate, Hexylene Glycol, Natural Color, Lavandula
Angustifolia (Lavender) Flower Extract, Rosmarinus Officinalis (Rosemary) Leaf Extract, Camellia Oleifera Leaf Extract, Chamomilla Recutita (Matricaria) Flower Extract, Citrus Aurantium Bergamia (Bergamot) Leaf Extract, Calendula Officinalis Flower Extract, Fulvic Acid, Colloidal Silver.
Ingredients Label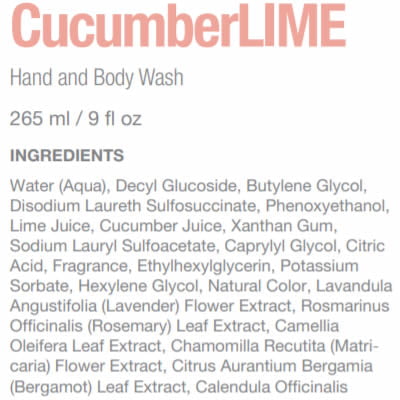 Caution
If you are under the age of 18, pregnant, nursing or have a pre-existing medical condition, consult with your health care provider before taking this product. Discontinue use and consult your health care provider if any adverse reaction occurs. Do not use if tamper-evident seal is broken. Keep out of the reach of children.
Testimonial and Reviews
Please email me for testimonials about this product: Sisel International Distributor, Nutrition and Health Coach Katie – [email protected]
Additional Information
Gluten Free
SiselSafe
No Animal Testing
Factsheets and Brochures
Sisel-Cucumber-Lime-Handwash-product-brochure
Related Videos
Related Pages
Disclaimer
These statements have not been evaluated by the Food and Drug Administration. This product is not intended to diagnose, treat, cure, or prevent any disease.
Last Updated on June 24, 2023 by Katie Sisel Distributor