Price
$58 USD Customer Price | $53 USD Distributor Price
Applies to USA, Canada, Australia, New Zealand, UK United Kingdom, and Taiwan
Price in other countries (click to expand)
Austria Distributor Price 67,50 €
Austria Customer Price 74,50 €
Belgium Distributor Price 67,50 €
Belgium Customer Price 74,50 €
Bulgaria Distributor Price 67,50 €
Bulgaria Customer Price 74,50 €
Czech Republic Distributor Price 64,50 €
Czech Republic Customer Price 70,90 €
Denmark Distributor Price 67,50 €
Denmark Customer Price 74,50 €
Estonia Distributor Price 67,50 €
Estonia Customer Price 74,50 €
Finland Distributor Price 67,50 €
Finland Customer Price 74,50 €
France Distributor Price 67,50 €
France Customer Price 74,50 €
Greece Distributor Price 67,50 €
Greece Customer Price 74,50 €
Hungary Distributor Price 17 700 Ft
Hungary Customer Price 19 470 Ft
Ireland Distributor Price 68,90 €
Ireland Customer Price 75,90 €
Italy Distributor Price 68,50 €
Italy Customer Price 75,50 €
Latvia Distributor Price 67,90 €
Latvia Customer Price 74,90 €
Lithuania Distributor Price 67,50 €
Lithuania Customer Price 74,50 €
Luxembourg Distributor Price 67,50 €
Luxembourg Customer Price 74,50 €
Malta Distributor Price 67,50 €
Malta Customer Price 74,50 €
Netherlands Distributor Price 67,50 €
Netherlands Customer Price 74,50 €
Poland Distributor Price 67,50 €
Poland Customer Price 74,50 €
Portugal Distributor Price 67,50 €
Portugal Customer Price 74,50 €
Romania Distributor Price 67,50 €
Romania Customer Price 74,50 €
Slovakia Distributor Price 67,50 €
Slovakia Customer Price 74,50 €
Slovenia Distributor Price 67,50 €
Slovenia Customer Price 74,50 €
Spain Distributor Price 67,50 €
Spain Customer Price 74,50 €
Sweden Distributor Price 69,90 €
Sweden Customer Price 76,90 €
Deutschland Distributor Price 59,90 €
Deutschland Customer Price 65,90 €
Where can I purchase Sisel Eternity?
Click here to order and create an account as a preferred customer or distributor. Order Sisel Eternity online. Distributors pay an average of 10% less than customers. You can order online from any country where Sisel products are sold. How do I get the best price?
By ordering through this site you will get the following benefits:
Assistance ordering online (should you need help) +61 422538801 or email katie@btoxicfree
Product support 7 days a week
Exclusive invitation to our product training group to learn more about the products
Weekly updates and stories about the benefits and unique aspects of Sisel products
Product knowledge training, and information from myself as a Nutrition and Health Coach and my sponsor, Dr Curt (Chiropractor) who has extensive product and health knowledge
Opportunity to work towards getting your products for free and being supported by the fastest growing online Sisel team globally.

About Sisel Eternity Resveratrol Liquid Supplement
Eternity® is a more perfect name for a superior concentrated elixir that floods the body with high powered antioxidants including Resveratrol, an ingredient that addresses the daily struggle we all face with oxidative damage from detrimental free-radicals. Resveratrol is found largely in the skins of red grapes for protection support against fungus, ultraviolet light, stress or trauma. It is interesting that Resveratrol is protecting the plant from the harsh environment and it may do the same for mankind. Mounting evidence demonstrates that Resveratrol, vigorously supports the vitality of a specific sirtuin gene, SIRT1, providing support for the mitochondria, a kind of cellular battery that slowly runs down as we age.(3)
By recharging the batteries with Resveratrol, SIRT1 could have profound effects on health including increased energy, longevity and weight release support. It is a known fact that high amounts of Resveratrol actually deliver impressive benefits. It would take approximately 40 bottles of red wine to equal a 1oz (30 ml) serving of Eternity. Eternity's proprietary liquid support system is designed to protect it through the entire digestive process and deliver its particles into the very cells that utilize them. Holding Eternity in your mouth for approximately 60 seconds before swallowing will mix with enzymes in the mouth and greatly support its increased absorption and bioavailability. Eternity is a powerful anti-oxidant tonic that is also loaded with additional pigmented fruit extracts and energy boosting nutrients. Eternity is an essential part of Sisel's Triangle of Life®.
By taking it along with FuCoyDon® and SpectraMaxx®, you are flooding your body with important trace minerals, vitamins and nutrients to achieve potentially strong anti-aging support properties. Science recognizes that free-radicals can set off internal inflammatory cascades and damage DNA which can become chronic, degenerative and increase the aging process. Resveratrol address these issues head on with its superior free-radical scavenging capabilities and activation of SIRT1. Drink up and enjoy the multiple benefits of Eternity
An intensely concentrated, synergistic blend of resveratrol and three essential key ingredients in a variety of nutrients for amplified bioavailability and vitality. This life-enhancing, highly potent liquid supplement may be the most significant factor ever discovered in the history of human health for promoting youthful vitality.
Slow down your aging process with Eternity™ anti-aging supplement
Using age-defying, nanotechnology, Sisel brings you the most youth-promoting anti-aging supplement available. SISEL eternity delivers high doses of Resveratrol in a highly bio-available beverage form, making it up to 250 times more absorbable than encapsulated products.
"After doing some research I found it to be highly concentrated. It would take approximately 40 bottles of red wine to equal a 1oz (30 ml) serving. It is designed to make it through the entire digestive process and deliver its particles into the very cells that utilize them.
They make each ½- ¾ ounce serving of 250 times more available than encapsulated Resveratrol.
It also contains a potent energy blend made from Brazilian Cha-de-Bugre and grape skin, green tea, and green coffee bean extracts. In addition, it contains a potent antioxidant blend of pomegranate, plum, and raspberry concentrates.
Holding it in your mouth for 60 seconds increases absorption by up to 400%."
Highly potent Resveratrol for age-defying activity
Scientists around the world are embracing the theory that free radicals and oxidation are the main cause of aging. Sisel has taken gigantic steps forward in this area of youth-enhancing and age-defying skincare. This innovative science has improved the outward appearance of hundreds of eager people wanting to look younger. In harmony with science, Sisel now looks to Resveratrol for internal support with powerful antioxidants that not only fight free radicals but also activate an anti-aging gene that looks promising as a key to life extension.
Scientists have discovered that when calories are restricted, a gene is activated that impacts age against cell death while promoting a longer, healthier life.
Scientists worldwide recognize that oxidative free radicals are virulent in damaging cellular DNA, making it difficult for correct DNA duplication. Science shows that Resveratrol is one of the best free-radical scavengers available. These studies indicate that Resveratrol not only supports longevity by gene activation but also imparts DNA protection in several body systems. The cardiovascular system, nervous system, and immune system functions all seem to be improved by Resveratrol. It has also been shown to modulate normal inflammatory response.
Sisel Eternity is unlike any other Resveratrol supplement. In addition to significant amounts of Resveratrol, Sisel Eternity contains a potent energy blend made from Brazilian Cha-de-Bugre and grape skin, green tea, and green coffee bean extracts. In addition, it contains a potent antioxidant blend of pomegranate, plum, and raspberry concentrates.
Sisel formulates some of the most potent and effective anti-aging products available. You are only as young as you feel. Sisel Eternity offers huge benefits for helping you look and feel younger faster. Make your anti-aging program complete with the addition of Sisel Eternity. Start living better, longer today with Sisel Eternity.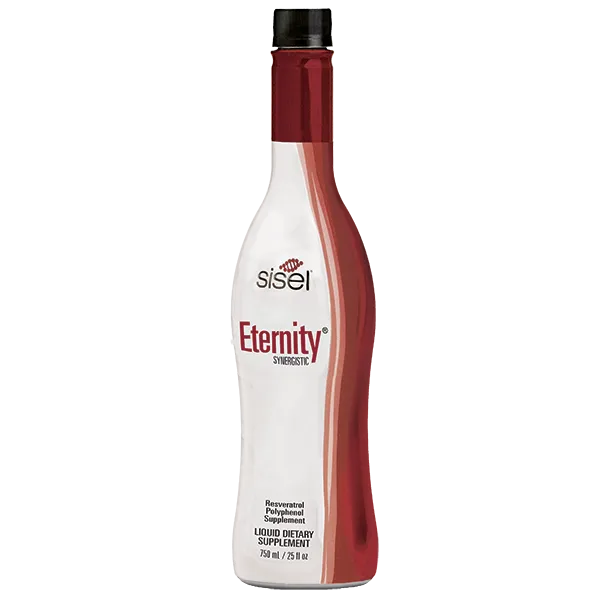 Features and Benefits
Supports and activates the anti-aging gene SIRT1.(1)
Vigorous metabolism and energy.(3)
May supports protection of cellular DNA from corrosive free-radicals.(5)
Supports with a healthy heart. (2)(4)
Assists in combating inflammation. (4)
Helps support improving stamina and endurance. (2)
Directions for use
Shake well before using. Drink 3/4 fl oz (22 mL) once or twice daily. Drink alone or mix into your favorite beverage. Refrigerate after opening.
Ingredients List
Supplement Facts
Amount Per Serving % Daily Value
Serving Size: 22.2ml (3/4 fl oz)
Serving Per Container: 33
Eternity® Resveratrol Blend 2230
Pomegranate Juice Concentrate, Blueberry Juice Concentrate, Plum Juice Concentrate, Raspberry Juice Concentrate, Sour
Cherry Juice Concentrate, Cranberry Juice Concentrate, Grape (skin) Extract (Resveratrol), Japanese Sophora (flowers) Extract, Rosemary (leaf) Extract.
Proprietary Blend
Guaraná (seed) Extract, Green Tea (leaf) Extract, Bitter Orange (fruit) Extract (Advantra Z®), Green Coffee Bean Extract (polyphenols).
Ingredients Label

Caution
If you are under the age of 18, pregnant, nursing or have a pre-existing medical condition, consult with your health-care provider before taking this product. Do not use if tamper evident ring or seal is broken or missing. Keep out of reach of children.
Sisel Eternity Testimonial and Reviews
Please email me for testimonials about this product: Sisel International Distributor, Nutrition and Health Coach Katie – [email protected]
Additional Information
Advantra Z® – U.S. Patent Numbers 6,224,873; 6,316,499; 6,340,481; 6,340,482
Gluten Free
Dairy Free
Soy Free
Vegan Friendly
Vegetarian Friendly
No Animal Testing
Sisel Safe
Factsheets and Brochures
Sisel-Eternity-Product-Brochure
Related Videos
Sisel Eternity Videos
Related Pages
References
Independent Research information on the ingredient Resveratrol, not this product, no claims can be made about this product:
(1) Resveratrol as an anti-inflammatory and anti-aging agent: Mechanisms and clinical implications Molecular Nutrition & Food Research Volume 49, Issue 5, pages 405–430, May 2005
(2) Therapeutic potential of resveratrol: the in vivo evidence Nature Reviews Drug Discovery 5, 493-506 (June 2006)
(3) Resveratrol Improves Mitochondrial Function and Protects against Metabolic Disease by Activating SIRT1 and PGC-1a Cell-Volume 127, Issue 6, 15 December 2006, Pages 1109–1122
(4) Resveratrol and Health Anti-inflammatory effects of resveratrol: possible role in prevention of age-related cardiovascular disease Annals of the New York Academy of Sciences 2011
(5) Amelioration of oxidative stress by antioxidants and resveratrol in PC12 cells 14 April 1997 – Volume 8 – Issue 6 – p 1499–1502 Neuropharmacology and Neurotoxicology
Disclaimer
These statements have not been evaluated by the Food and Drug Administration. This product is not intended to diagnose, treat, cure, or prevent any disease.
Last Updated on June 24, 2023 by Katie Sisel Distributor