Sisel Compensation Plan
Sisel operates a generous and lucrative compensation plan for its distributor network. To get started an investment of $25 USD for United States, Canada, Taiwan, United Kingdom, Australia and New Zealand Distributors is required. Europe has separate pricing 24,90 €
Join our team and we will help and support you to grow a successful distribution business. What are you waiting for?
This page outlines the amazing Sisel Compensation Plan, find out how you can work your way up to become Sisel International's leading distributor below.
Please review the compensation plan below (see link below).  Please also review the links at the bottom of this page for more information about the Sisel Business Opportunity.
Why Sisel?
Sisel International is proud of their generous compensation plan, here we give you some great facts about Sisel and why you should really consider them as your next business venture.
Sisel pays generously compared  to other compensation plans.
55% of the price of the product, goes back to the distributors as a commission.
Sisel is debt free, operating from a Trust. The company is owned by the Mowers. There are no shareholders.
Sisel International Compensation Plan
The Sisel International Compensation Plan is available here as a downloadable PDF.
As you can see from the brochure, there are many lucrative avenues to explore within the Sisel compensation scheme, sometimes this means that you might have questions about how to generate the most income as quickly as possible,  please reach out to me if you are interested in building a Sisel Business. I am an expert when it comes to building a business online.
As a registered distributor, you can find out all about the Sisel compensation package from the leading Sisel Online Team. We welcome all new distributors to join our team, share knowledge and sales tips as well as give away the secrets to our success.
For additional information, contact me (Katie Larking) +61422 53 8801. I am more than happy to assist you on your Sisel Distributor journey wherever it is possible.
Continue reading: How to earn money with Sisel.
Understanding Sisel International Compensation Plan Terms
Sisel International Compensation Plan contains a lot of acronyms. They often don't make sense. Below are some definitions to help you better understand the compensation plan.
Downline
Sponsored Distributors placed 'below' you in the tree
LRP
Loyalty Rewards Program
Sisel reward program that puts money back into your pocket through vouchers. Great for loyal customers look for Sisel International Promo Codes.
Personally Sponsored
Anyone that you personally enroll
WBS
Wealth Builder System
Direct Commissions
7 levels, 7% pay
Enrollment Tree
Anyone that you personally enroll
Star (Rank)
Your qualification for bonuses
CV
Commissionable Volume
FSB
Fast Start Bonus: First 30 days of membership you collect 25% off all orders by new enrollee
QDV
Qualifying Downline Volume
PV
Personal Volume
A.G.E.
Anti-Glycation Extreme
Upline
Sponsored Distributors paced 'above' you in the placement tree
Infinity Bonus
Commissions for levels 8 and beyond
Master Cheque Match
Receive a percentage of the DC payout of qualified 1-Star Masters and above, in their downlines based on Generations (Enrolling Sponsor Tree)
Dynamic Compression
Commission will roll up to the next qualified person if someone does not qualify
Profit Center
The Compensation Plan, or how you earn monetary bonuses.
Sisel International Compensation Plan in a SnapShot
Compensation Plan Training webinar: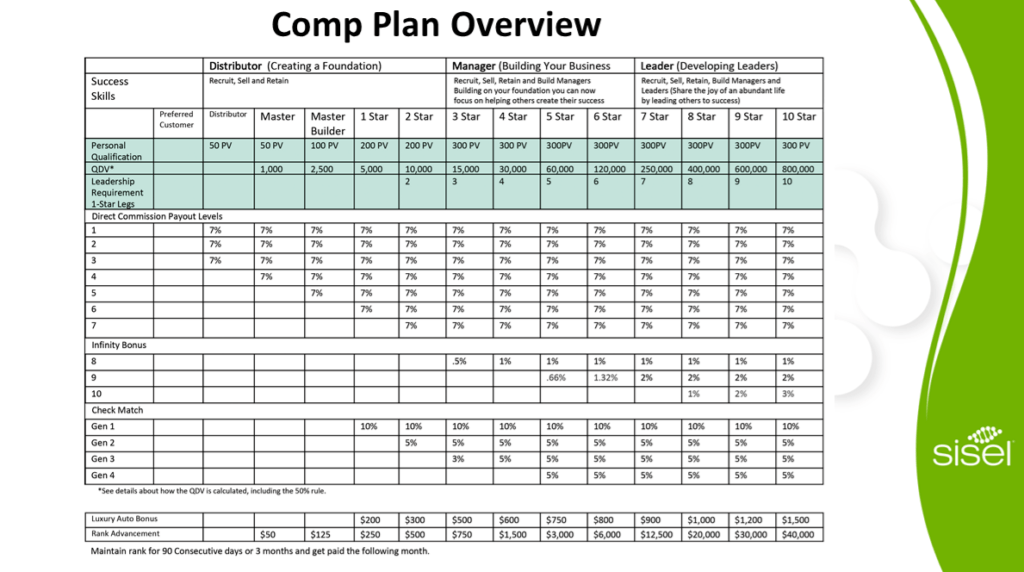 Related Pages
Sisel Youtube Channel Product and Business Training
Last Updated on July 17, 2023 by Katie Sisel Distributor