Price
Applies to USA, Canada, Australia, New Zealand, UK United Kingdom, and Taiwan
$26 USD Customer Price | $23 USD Distributor Price
Price other countries (click to expand)
Where can I purchase Sisel Thermarol Joint Cream?
Click here to order and create an account as a preferred customer or distributor. Order Sisel Thermarol Joint Cream online. Distributors pay an average of 10% less than customers. You can order online from any country where Sisel products are sold.
By ordering through this site you will get the following benefits:
Assistance ordering online (should you need help) +61 422538801 or email

[email protected]

Product support 7 days a week
Exclusive invitation to our product training group to learn more about the products
Weekly updates and stories about the benefits and unique aspects of Sisel products
Product knowledge training, and information from myself as a Nutrition and Health Coach and my sponsor, Dr Curt (Chiropractor) who has extensive product and health knowledge
Opportunity to work towards getting your products for free and being supported by the fastest growing online Sisel team globally.

About Thermarol Joint Cream
Fast-acting, long-lasting Thermarol Warming Cream deeply penetrates sore joints and muscles with dual-action warming agents.
Turn up the heat on sore muscles and joints!
Thermarol's fast-acting, long-lasting heat penetrates deeply to soothe sore joints and muscles.*
7.5% Cetyl Myristoleate for improved joint health*
Dual-action warming agents for fast-acting, long-lasting, deep-penetrating heat*
Rich, moisturizing emollients for soft, smooth skin*
Thermarol works when you do
Whether you're on the job, or doing jobs around the house, apply Thermarol to your back, shoulders, hands and knees before getting down to business. Keep a tube by your bedside to use first thing in the morning or to help you relax at night. Youll not only feel better, but Thermarol may help to ease tension and loosen stiffness.*
If your work is physically demanding and requires moderate to heavy lifting or repeated motions, you will love Thermarol's warming comfort. If your job is physically sedentary, but a pressure cooker of tight timelines and endless decision making, relax the tension in your neck and shoulders that leads to stress headaches. Keep a tube at your desk to use on your break.
Get back in the game!
Thermarol can be used as a pre-activity cream that loosens muscles and joints, and a post-activity cream that eases recovery. Rub Thermarol deep into muscles and on joints 10—30 minutes before activity to warm up, help your muscles relax, and make your workout more enjoyable. After your workout, or after any prolonged or intense stress or strain, heat up a therapeutic massage for deep stress relief.*
Healthy Joints
The scientists at SISEL have created a cream that improves and eases our mobility. Thermarol Warming Cream has 7.5% Cetyl Myristoleate (CM). Harry W. Diehl isolated CM in the early 1960s while working for the National Institutes of Health.1 He found that lab animals with CM experienced extraordinary benefits. Although not as well known as glucosamine or chondroitin, there is a growing awareness that CM equals or surpasses their contribution to healthy joints and quality of life.2
Feel the heat fast…and make it last
Warming agents Vanillyl Butyl Ether (VBE) and Wintergreen Oil heat in two distinct ways. VBE stimulates the receptors at the nerve endings to produce a perceived heating sensation, without an actual temperature change.3VBE goes to work immediately-warmth can be felt within five minutes and lasts up to two hours. Wintergreen Oil fights fire with fire, acting as a counterirritant that draws attention away from another irritation or ache. It causes dilation of the capillaries and an increase in blood circulation… and it has a pleasant fragrance.4
Skin friendly and fabulous
Luxurious moisturizing emollients Shea Butter, Ethylhexyl Stearate (ES), Coconut Oil, and Palm Kernel Oil feel wonderful on your skin. Made from the fruit of the karite tree, also known as the tree of life, Shea Butter has been used for centuries as an ointment for burns and dry skin. ES is a rich and silky lubricant that is renowned for its spreadability and fluidity. It also improves the skin's ability to retain moisture.5 Coconut Oil and Palm Kernel Oil both contain an emollient that gives the skin a soft and smooth appearance. These fast-spreading oils are non-greasy and absorb quickly.
Enjoy the calming comfort of SISEL's Thermarol Warming Cream on your muscles and joints. Keep moving with agility through life's twists and turns, bumps and bruises. Even strenuous activity is no match for this revitalizing rub.*
Features and Benefits
Thermarol's fast-acting, long-lasting heat penetrates deeply to soothe sore joints and muscles.*
7.5% Cetyl Myristoleate for supporting joint health*
 Dual-action warming agents for fast-acting, long-lasting, deep-penetrating heat*
Rich, moisturizing emollients for soft, smooth skin*
Directions for use
Rub Thermarol deep into muscles and on joints.
Ingredients List
Thermarol Deep Heat for Stress Relief Cream Ingredients Label
Thermarol™ Ingredients
Deep Heat for Stress Relief Cream
113 mL / 4 oz
INGREDIENTS:
Aqua, Butylene Glycol, Gaultheria Procumbens (Wintergreen) Leaf Oil, Glyceryl Stearate, Pentaerythrityl Distearate, Butyrospermum Parkii (Shea Butter), Vanillyl Butyl Ether, Ethylhexyl Stearate, Dicaprylyl Ether, Dimethicone, Cetearyl Alcohol, Sodium Stearoyl Lactylate, Cetyl Myristoleate Fatty Acid Esters, Sodium Polyacrylate, Benzyl PCA, Phenoxyethanol, Xanthan Gum.
Ingredients Label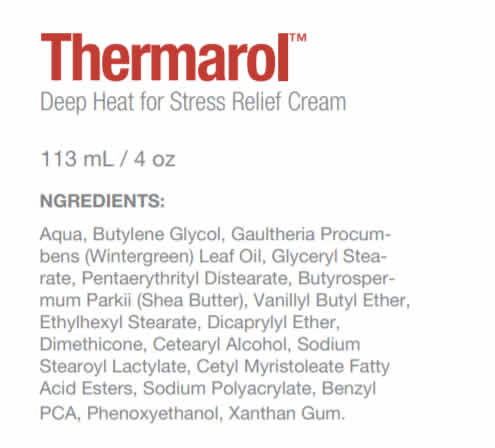 Caution
Before use on children under 12 years old, consult a doctor. For external use only. Avoid contact with eyes. Do not bandage tightly. Do not use with a heating pad. Do not apply to wounds. If you experience skin discomfort, discontinue use. Keep out of reach of children. Consult your healthcare provider before using this product if you are pregnant, nursing, taking prescription medication, or have a pre-existing medical condition. Do not use if tube does not have its inner protective liner.
Testimonial and Reviews
Please email me for testimonials about this product: Sisel International Distributor, Nutrition and Health Coach Katie – [email protected]
Additional Information
SiselSafe
No Animal Testing
Factsheets and Brochures
Related Videos
Related Pages
References
1 Diehl HW & May EL. Cetyl myristoleate isolated from Swiss albino mice. J Pharm Sci. 1994, p. 296.
2 Wikipedia, Cetyl myristoleate
3 Hotact. VBE data sheet.
4 Wikipedia, Wintergreen Oil, Rubefacient, Counterirritant
5 Croda. Crodamol OS, Ethylhexyl Stearate data Sheet
Disclaimer
These statements have not been evaluated by the Food and Drug Administration. This product is not intended to diagnose, treat, cure, or prevent any disease.
Last Updated on June 24, 2023 by Katie Sisel Distributor