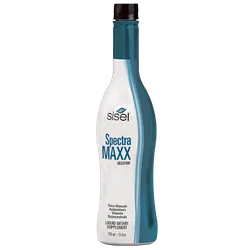 Price
Applies to USA, Canada, Australia, New Zealand, UK United Kingdom, and Taiwan
$64 USD Customer Price  | $48 USD Distributor Price
Price other countries (click to expand)
Austria Distributor Price 73,90 €
Austria Customer Price 81,50 €
Belgium Distributor Price 73,90 €
Belgium Customer Price 81,50 €
Bulgaria Distributor Price 73,90 €
Bulgaria Customer Price 81,50 €
Czech Republic Distributor Price 70,90 €
Czech Republic Customer Price 77,90 €
Denmark Distributor Price 73,90 €
Denmark Customer Price 81,50 €
Estonia Distributor Price 73,90 €
Estonia Customer Price 81,50 €
Finland Distributor Price 73,90 €
Finland Customer Price 81,50 €
France Distributor Price 73,90 €
France Customer Price 81,50 €
Greece Distributor Price 73,90 €
Greece Customer Price 81,50 €
Hungary Distributor Price 19 460 Ft
Hungary Customer Price 21 406 Ft
Ireland Distributor Price 75,90 €
Ireland Customer Price 83,50 €
Italy Distributor Price 74,90 €
Italy Customer Price 82,50 €
Latvia Distributor Price 74,50 €
Latvia Customer Price 81,90 €
Lithuania Distributor Price 73,90 €
Lithuania Customer Price 81,50 €
Luxembourg Distributor Price 73,90 €
Luxembourg Customer Price 81,50 €
Malta Distributor Price 73,90 €
Malta Customer Price 81,50 €
Netherlands Distributor Price 73,90 €
Netherlands Customer Price 81,50 €
Poland Distributor Price 73,90 €
Poland Customer Price 81,50 €
Portugal Distributor Price 73,90 €
Portugal Customer Price 81,50 €
Romania Distributor Price 73,90 €
Romania Customer Price 81,50 €
Slovakia Distributor Price 73,90 €
Slovakia Customer Price 81,50 €
Slovenia Distributor Price 73,90 €
Slovenia Customer Price 81,50 €
Spain Distributor Price 73,90 €
Spain Customer Price 81,50 €
Sweden Distributor Price 76,90 €
Sweden Customer Price 84,50 €
Deutschland Distributor Price 65,90 €
Deutschland Customer Price 72,50 €
Where can I purchase Sisel SpectraMaxx?
Click here to order and create an account as a preferred customer or distributor. Order Sisel SpectraMaxx online. Distributors pay an average of 10% less than customers. You can order online from any country where Sisel products are sold.
By ordering through this site you will get the following benefits:
Assistance ordering online (should you need help) +61 422538801 or email

[email protected]

Product support 7 days a week
Exclusive invitation to our product training group to learn more about the products
Weekly updates and stories about the benefits and unique aspects of Sisel products
Product knowledge training, and information from myself as a Nutrition and Health Coach and my sponsor, Dr Curt (Chiropractor) who has extensive product and health knowledge
Opportunity to work towards getting your products for free and being supported by the fastest growing online Sisel team globally.

About Sisel SpectraMaxx
SpectraMaxx fills in the gaps found in our modern diets by providing the broadest spectrum of antioxidants and trace minerals ever contained in a single bottle. By combining the incredible ingredients of Spectra AO and SupraMaxx into a powerful supersaturated formula, Sisel has created the world's first megatonic.
About Nutritional Supplement & Antioxidant Drinks
Repetitive overfarming and unsustainable agricultural methods, combined with a pursuit to breed crops for greater weight instead of better nutrition, has lead to nutritionally empty fruits and vegetables. Studies have found that compared to the plants of only 50 years ago, what we eat today may have up to 75% fewer nutrients. So while we may believe we're eating healthy, our bodies may still be lacking the materials they need to function optimally.
Perhaps just as alarming is the estimate that there are as many as 100,000 new man-made chemicals circulating throughout our world, many of which contain harmful free radicals that corrode the cells in our bodies and may increase the effects of aging. So while the nutritional value of the foods we depend on to keep us healthy has decreased, the environmental threats to our health have increased.
With literally thousands of different free radicals that can attack us every day, is there a single antioxidant 'super food' that can protect us from all of them? Absolutely not. Even truly remarkable foods like resveratrol and fucoidan can't protect our cells from the variety of environmental threats we encounter. Only a broad spectrum of different antioxidants can do this. SpectraMaxx contains 40 powerful antioxidant fruits, vegetables, and other natural ingredients that each have unique abilities to scavenge different types of free radicals.
Approximately 40 Powerful Anti-Oxidants and 74 Trace Minerals – SpectraMaxx Nutritional Supplement
SpectraMaxx also contains 74 essential trace minerals the body needs to sustain a variety of important biological functions. Scientists have identified as many as 2,000 different chemical reactions that take place in our bodies that may require minute amounts of elements we usually don't think about. Low mineral content is one of the most noticeable deficiencies identified in modern foods, making supplementation with trace minerals crucial for normal function of all systems of the body.
One of the keys to SpectraMaxx's effectiveness is fulvic acid, one of the most essential organic substances for all life on Earth. By breaking minerals down into tiny ionic particles, small enough to be absorbed by the roots, fulvic acid enables plants to get the nutrition they need to power important functions like photosynthesis and cellular respiration. Without fulvic acid, most of the edible plants in the world wouldn't survive, and the entire food chain would collapse. Once naturally occurring in soils everywhere, a deficiency in fulvic acid throughout the world may also be contributing to the low mineral content of food crops.
Emerging research has shown that fulvic acid may be just as important for a healthy body as it is for a healthy planet. Not only does it make the trace minerals in SpectraMaxx more readily bioavailable, greatly improving absorption, it may also support healthy function of every system of the body, and is an effective antioxidant in its own right.
Evidence of the potentially devastating toll our changing environment has had on our health can be found in the increasing occurrence of cancer. A recent breakthrough study conducted at the University of Manchester examined the preserved remains of hundreds of Egyptian mummies, searching for cancerous tumors. They found only a single case. Comparing this cancer rate of less than one percent to today, when one in every two people in developed nations will be diagnosed with some form of cancer in their lifetime, the researchers came to a staggering conclusion: cancer is man-made.
While cancer is the most alarming example of how man's quest for innovation and progress has had an adverse effect on our health, it is certainly not the only one. But if many of the common illnesses of our time could be man-made, might they also be avoidable? We believe so.
SpectraMaxx provides the broadest array of antioxidants, trace minerals, and energy boosting vitamins the world has ever seen, and was made to provide essential nutrition our bodies need to protect themselves, but frequently don't get in the typical modern diet. Just ¾ ounce provides a full day's supply of trace minerals, full spectrum antioxidants, and vitamin D, with an energy boosting B vitamin complex as well.
Features and Benefits
Filling the gaps found in modern diets by providing an extremely broad spectrum of antioxidants and trace minerals in a single supplement.
Contains approximately 40 powerful anti-oxidants from fruit, vegetables, berries and minerals to reduce the oxidative effects of free radicals.
Approximately 74 essential trace minerals to support biological functions.*
Contains fulvic acid – essential for supporting many biological functions such as cellular respiration and nutrition.*
Combined with Eternity® and FuCoyDon®, it forms the 'Triangle of Life', which is what we believe one of the most potent, bioavailable supplements lines in the world.*

Directions for use
Shake well before using. Drink 3/4 fl oz (22 mL) once or three times daily. Drink alone or mix into your favorite beverage. Refrigerate after opening.
Ingredients List
Serving Size: 22 ml (3/4 fl oz)
Serving Per Container: 33
INGREDIENTS:
Vitamin D (as Cholecalciferol) 10 mcg
Thiamin (as Thiamine HCI) 0.4 mg
Riboflavin (as Riboflavin) 0.4 mg
Niacin (as Niacinamide) 2 mg
Vitamin B-6 (as Pyridoxine HCl) 0.5 mg
Folate (as Folic Acid) (100 mcg folic acid) 167 mcg DFE
Vitamin B-12 (as Cyanocobalamin) 3 mcg
Biotin 30 mcg
Pantothenic Acid (as Calcium Pantothenate) 1 mg
Zinc (as Zinc Gluconate) 7 mg
Sodium 6 mg
SISEL SpectraMaxx® Proprietary Blend 5 g
Agave Syrup, Fruit Concentrate Blend (Plum, Grape, Black Currant, Blueberry, Natural Flavors), Pomegranate (fruit) Concentrate, Raspberry (fruit) Concentrate, Grape Juice Concentrate, Fructooligosaccharide, Lycium (Wolfberry) (Goji) (fruit) Powder, Raspberry (fruit) Extract, Natural Flavors, Black Currant (fruit) Powder, Trace Minerals Concentrate, Berry (fruit) Blend (Grape and Grape Seed Extract, Wild Blueberry and Wild Blueberry Extract, Raspberry and Raspberry Seed Concentrate, Cranberry, Prune, Tart Cherry, Wild Bilberry and Wild Bilberry Extract, Strawberry Powder), Lime (fruit) Powder, Kiwi (fruit) Powder, Mango (fruit) Powder, Strawberry (fruit) Powder, Pomegranate (fruit) Powder, Mangosteen (fruit) Powder, Vegetable Blend (Broccoli Sprout Concentrate, Onion Extract, Tomato, Broccoli, Carrot, Spinach, Kale, Brussel Sprout Powder), Green Tea (leaf) Extract, White Tea (leaf) Extract, Coffee (bean) Extract, Bilberry (fruit) Extract, Grape (seed) Extract, Acai (fruit) Powder, Grape (skin) Extract, Turmeric (root) Extract, Sea Buckthorn (fruit) Puree, Cocoa Bean Powder, Lemon (fruit) Powder, Fulvic Acid.
OTHER INGREDIENTS:
Purified Water, Sodium Benzoate, Citric Acid, Xanthan Gum.
Ingredients Label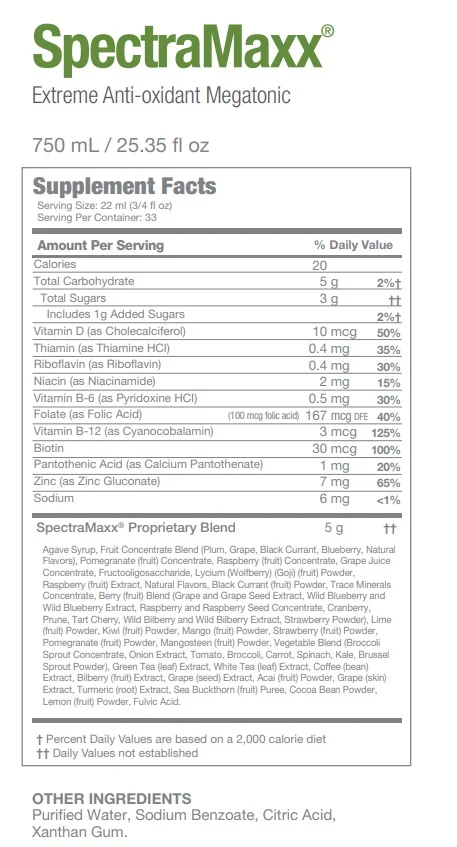 Caution
If you are under the age of 18, pregnant, nursing or have a pre-existing medical condition, consult with your health care provider before taking this product. Discontinue use and consult your health care provider if any adverse reaction occurs. Do not use if tamper-evident seal is broken. Keep out of the reach of children.
Testimonial and Reviews
Please email me for testimonials about this product: Sisel International Distributor, Nutrition and Health Coach Katie – [email protected]
Additional Information
Gluten Free
Dairy Free
Soy Free
SiselSafe
Vegan Friendly
Vegetarian Friendly
No Animal Testing
References
Research info:
(1) Nutritional Changes 1975-2010 (per 100 grams raw edible portion-Source is USDA food composition tables); USDA-National Agricultural Library. Reference
Factsheets and Brochures
Sisel-SpectraMaxx-Product-Factsheet
Sisel-SpectraMAXX-Product-Brochure
Related Videos
Related Pages
Disclaimer
These statements have not been evaluated by the Food and Drug Administration. This product is not intended to diagnose, treat, cure, or prevent any disease.
Last Updated on June 24, 2023 by Katie Sisel Distributor