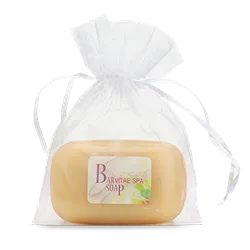 Price
Applies to USA, Canada, Australia, New Zealand, UK United Kingdom, and Taiwan
$13 USD Customer Price | $11 USD Distributor Price
Price other countries (click to expand)
Not available
Where can I purchase Sisel Bar Vitae Soap?
Click here to order and create an account as a preferred customer or distributor. Order Sisel Bar Vitae Soap online. Distributors pay an average of 10% less than customers. You can order online from any country where Sisel products are sold.
By ordering through this site you will get the following benefits:
Assistance ordering online (should you need help) +61 422538801 or email

[email protected]

Product support 7 days a week
Exclusive invitation to our product training group to learn more about the products
Weekly updates and stories about the benefits and unique aspects of Sisel products
Product knowledge training, and information from myself as a Nutrition and Health Coach and my sponsor, Dr Curt (Chiropractor) who has extensive product and health knowledge
Opportunity to work towards getting your products for free and being supported by the fastest growing online Sisel team globally.

About Sisel Bar Vitae Soap
Moisturizing, Body Exfoliating Soap Bar
Pamper, moisturize, and tone your skin with our indulgent and luxurious BarVitae Spa Soap.
Not all soaps are the same. Pamper, moisturize, and tone your skin with our indulgent and luxurious Vitae Spa™ Bar Soap. Make a clean start to your day with a toxin free product specially formulated to protect you, preserve our planet, and help you live a better and healthier life. Does not contain harmful and bacterial toxins and preservatives. Vitae Spa gives clean a new name!
Full of natural and nourishing ingredients like pumpkin seed oil, sweet almond oil, and Camellia japonica seed extract, our BarVitae Spa Soap is an indulgent and luxurious way to pamper, moisturize, and tone your skin. It's free from harmful and irritating ingredients, has a clean, pure scent, and comes nestled in a charming organic pouch, making it perfect for gift giving.
Features and Benefits
No toxins or phosphates.
Helps tone and clean the skin
Great fresh scent
Cleans, exfoliates & soothes
Rinses free and cleanly
Directions for use
Apply soap to wet body liberally. Rub to lather, wash, and rinse.
Ingredients List
Moisturizing, Body Exfoliating Soap Bar 100 g/3.5 OZ.)
INGREDIENTS
Sodium Palmate, Sodium Palm Kernelate, Waater (Aqua), Fragance, Theobroma Grandiflorum (seed) Butter, Apricot (seed) Butter, olive (fruit) Oil, Pumpkin (seed) Butter, Matcha Green Tea Butter, Sweet Almond Oil, Hydrogenated Vegetable Oil, Camellia Sinesis (Leaf) Extract, Beta Carotene, Vaccinium Angustifolium (Blueberry Fruit) Extract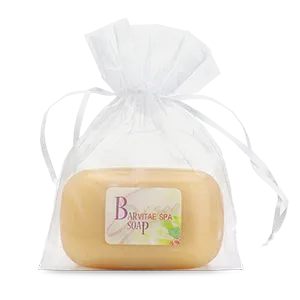 Ingredients Label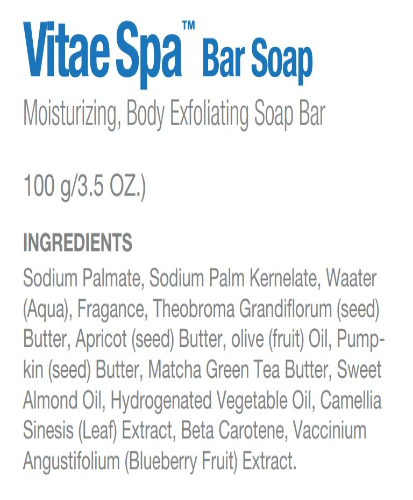 Caution
For external use only. Avoid direct eye contact. If product gets into eyes, rinse thoroughly with water. If irritation or redness occurs, discontinue use. Keep out of the reach of children.
Testimonial and Reviews
Please email me for testimonials about this product: Sisel International Distributor, Nutrition and Health Coach Katie – [email protected]
Additional Information
SiselSafe
No Animal Testing
Factsheets and Brochures
Sisel-Vitae-Spa-Soap-Product-Fact-Sheet
Related Videos
Related Pages
Disclaimer
These statements have not been evaluated by the Food and Drug Administration. This product is not intended to diagnose, treat, cure, or prevent any disease.
Last Updated on June 24, 2023 by Katie Sisel Distributor