Price
Applies to USA, Canada, Australia, New Zealand, UK United Kingdom, and Taiwan
$54 USD Preferred Customer | $49 USD Distributor
Price other countries (click to expand)
Not available
Where can I purchase Sisel Silver ?
Click here to order and create an account as a preferred customer or distributor. Order Sisel Silver online. Distributors pay an average of 10% less than customers. You can order online from any country where Sisel products are sold.
By ordering through this site you will get the following benefits:
Assistance ordering online (should you need help) +61 422538801 or email

[email protected]

Product support 7 days a week
Exclusive invitation to our product training group to learn more about the products
Weekly updates and stories about the benefits and unique aspects of Sisel products
Product knowledge training, and information from myself as a Nutrition and Health Coach and my sponsor, Dr Curt (Chiropractor) who has extensive product and health knowledge
Opportunity to work towards getting your products for free and being supported by the fastest growing online Sisel team globally.

About Sisel Silver | Sisel's Micronized Colloidal Silver | NEW
Sisel Silver – Sisel's NEW micronized colloidal silver combines the properties of nature with the power of science for health and wellness silver has long been known for its antibacterial and antimicrobial properties it's been used historically to keep drinking water and other liquids fresh and free from contamination and it's been traditionally used for skin treatment and wound care and cleaning silver.
It has been used around the globe by numerous cultures and civilizations across centuries in a peer-reviewed scientific study found at pubmed.gov and in the journal of communicable diseases. Laboratory tests were performed to measure how effective silver is at destroying specific dangerous pathogens in non-chlorinated well water in this study there were three different types of sterile containers used one made of silver one of stainless steel and one of glass. One set of each of these containers was injected with three different pathogens shigella dysentery vibrio cholerae and salmonella typhi, all of which can cause life-threatening human diseases.
Each container was then covered with a metal screw cap and left in a temperature controlled environment for over eight hours with intermittent testing for bacterial viability throughout that time period. Within one hour all three strains of bacteria were eliminated in the silver container however the stainless steel and glass containers showed no decrease in the three strains of bacteria introduced into them even after an eight-hour period. This study and multiple other studies throughout the years illustrate the potential silver has to eliminate dangerous bacteria and why silver was used to purify water before pasteurization and refrigeration were available.
Understanding the use of silver and the benefits that silver provides I thought many times over the last 40 years about producing a Sisel Silver product but the technology has not previously existed to create a Sisel Safe formula .
Now with the advances in science of silver for human use the technology does exist and is supported by numerous clinical studies. The Sisel Silver product that Sisel has created and that lives up to Sisel's rigorous Sisel Safe
standards.
It is safe and more effective than the traditional colloidal silver products on the market today. Sisel silver works naturally by adding additional defence to support the body's  immune system and provides powerful protection for general health and well-being. Supported by independent studies Sisel Silver utilizes a proven new technology that magnifies the power and efficiency of silver. This unique and effective micronized colloidal silver core is surrounded by an ag404 tetra silva tetra oxide molecular coating this technology promotes continuous particle function to maximize  bioavailability and potency.
Unlike traditional colloidal silver our micronized colloidal Sisel Silver with its ag404 coating includes millions of silver oxide molecules attached to a central silver particle. These millions of molecules can ensure our superior silver functionality is reproduced time and time again to maximize the benefits people are looking for when using silver. Additional features and benefits of Sisel Silver are our silver mineral supplement is a 22 ppm formula meaning the concentration is 22 parts of silver per million parts of water. The Sisel Silver formula is supported by human clinical studies and toxicity studies it's made with reverse osmosis water for utmost purity. Sisel Silver is probiotic friendly. Sisel Silver is a certified Sisel Safe formula. Start supporting your body's immune system today with natural and safe Sisel Silver today.
Features and Benefits
22 ppm (concentration is 22 parts of silver per million parts of water)
Highly effective at supporting, maintaining, and adding additional defense to the body's immune system*
Micronized silver particles with Ag404 Tetrasilver tetraoxide coating means continuous particle function to maximize bioavailability*
Supported by human clinical studies and toxicity studies*
Probiotic friendly*
Made with RO (Reverse Osmosis water) for utmost purity*
 Silver mineral supplement
The beneficial attributes of silver have been used for  centuries*
Directions for use
Take 1 teaspoon up to three times daily. Not recommended for continuous or long-term use. Does not require refrigeration after opening
Ingredients List
NET WEIGHT: 473 mL (16 fl oz)
OTHER INGREDIENTS: RO Water
Silver (Micronized Colloidal) 110 mcg **
Supplement Facts
Serving Size: 1 teaspoon (5mL)
Servings Per Container: 94
Amount Per Serving % Daily Value
**Daily Value not established.
Ingredients Label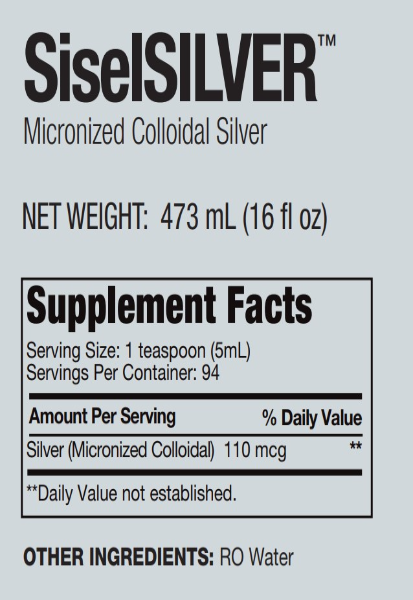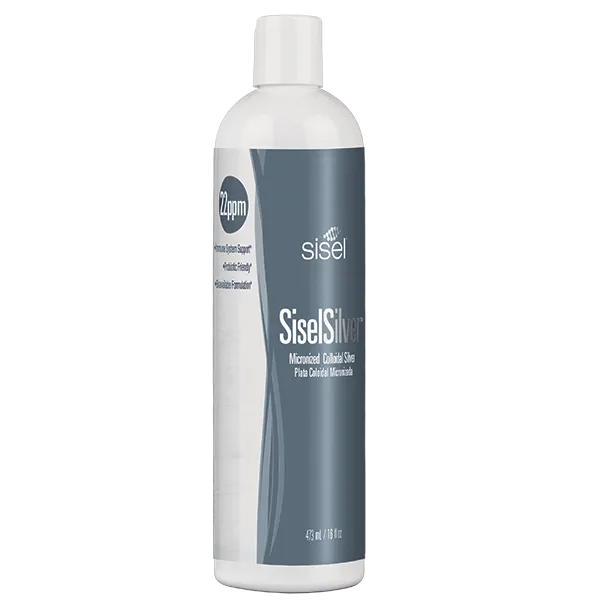 Caution
Do not mix with salt or salty liquids. If you are under the age of 18, pregnant, nursing or have a pre-existing medical condition, consult with your health care provider before taking this product. Do not use if tamper-evident seal is broken. Keep out of the reach of children
Testimonial and Reviews
Please email me for testimonials about this product: Sisel International Distributor, Nutrition and Health Coach Katie – [email protected]
Additional Information
SiselSafe
No Animal Testing
References
Factsheets and Brochures
Sisel-SILVER-Product-FactSheet
Related Videos
Related Pages
Disclaimer
These statements have not been evaluated by the Food and Drug Administration. This product is not intended to diagnose, treat, cure, or prevent any disease.
Last Updated on October 17, 2023 by Katie Sisel Distributor