Register now to see Tom Mower in Australia. Mr. Mower's tour will last over a week and includes stops in five cities Sydney, Melbourne, Adelaide, Perth and the Gold Coast. There will be free samples, informative lectures and product demonstrations at each stop in the tour. Free Event.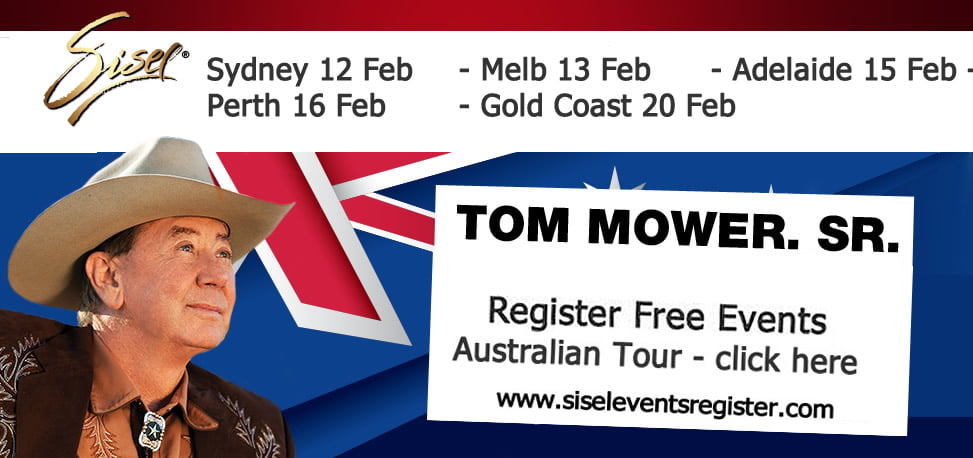 Tom Mower's Australian Tour Dates, Times and Venues
Sydney — 12/02/16 Friday, 7-930pm. Liverpool Catholic Club Sydney, 458 Hoxton Park Road, Liverpool West.
Melbourne — 13/02/16 Saturday, 1-4pm. The International, 81 Bay Street, Brighton.
Adelaide — 15/02/16 Monday, 7-930pm. Convention Centre, North Terrace, Adelaide.
Perth — 16/02/16 Tuesday, 7-9.30pm. Royal Perth Yacht Club, 6 Australia II Drive, Crawley.
Gold Coast — 19/02/16 Friday, 6.30-930pm (Leader's Only Event). Mercure Resort 64 Palm Meadows Drive, Carrara.
Gold Coast — 20/02/16 Saturday, 1-4pm. Mercure Resort 64 Palm Meadows Drive, Carrara.

About Tom Mower
Tom mower is clearly a big thinker. He considers Sisel the culmination of his life's work…..But even given his background and his digits, he's driven by his heart more than his wallet.
"I love helping people." Tom says. "It's like giving someone a Christmas present sometimes you are more excited about it than they are. I love hearing tremendous success stories about how Sisel has changed their lives."
At Tom's age and financial station in life he could have retired 20 years ago and played golf. But Tom's not wired to slow down or waste the knowledge and experience he's acquired.
"I believe in what I am doing," he says. "This isn't a business to me. This is a vehicle to create great lives for people that include health, wealth and happiness."
Tom's passion and wide-as-the-sky knowledge come from the various hats he's worn and perfected over time: business manager, research scientist, trainer, entrepreneur, salesman and finally industry icon.
Reference: — Extracts from Tom Mower Hour Ground Opportunity 2014 Magazine. Ground Opportunity p19.
About Tom Mower's Event – The Science of Anti-Aging – Sisel International
I truely feel that Tom Mower's Super Saturday Event will be a life changing event for anyone who attends, to be honest my words cannot accurately express the value of attending this event. It was this type of information that lift me out of the darkness of lost hope when I was sick and made me feel differently about growing older and overcoming major health challenges.
If you are reading this I really hope you can attend 🙂
Tom Mower is the CEO and founder of Sisel. Tom is an amazing Scientist and has hands on involvement in his product inventions.
This is a great opportunity to share potentially life changing information with family, friends and anyone you would like to help.
You and your guests will enjoy exciting product demonstrations and sampling.
Tom will share information about new product releases. In the last 5-10 years there have been some massive advances in health science, most of which we do not benefit from. However Tom will explain how the latest breakthroughs in science have been incorporated into the Sisel products.
One great product example is the new Hydrogen water filter (water samples will be available on the day).
Over 600 peer reviewed studies have been published on the benefits of diatomic hydrogen, ranging from its superb antioxidant capabilities to its remarkable ability to increase energy and reduce recovery time after exercise. Proven advantages include:
Increases antioxidant levels
Helps improve energy levels
Improves recovery time after exercise
Neutralizes free radicals
Reduces oxidative stress
Helps promote cellular health
Supports cellular signaling
Helps maintain catalase, glutathione and super oxide dismutase levels
The Filter Removes Chlorine, Fluoride, and Pharmaceutical residues from the water! Oestrogen mimics, endocrine disrupting chemicals, carcinogens and mutagens from the water.
It's a free event for educational purposes come and enjoy the atmosphere and enlightening health information. Register at:
www.siseleventsregister.com
Last Updated on March 27, 2023 by Katie Sisel Distributor