Price
Applies to USA, Canada, Australia, New Zealand, UK United Kingdom, and Taiwan
$89 USD Customer Price | $98 USD Distributor Price
Price other countries (click to expand)
Not available
Where can I purchase Sisel SISEL Max Motion Full Spectrum, Joint Support Equine Formula?
Click here to order and create an account as a preferred customer or distributor. Order SISEL Max Motion Full Spectrum, Joint Support Equine Formula online. Distributors pay an average of 10% less than customers. You can order online from any country where Sisel products are sold.
By ordering through this site you will get the following benefits:
Assistance ordering online (should you need help) +61 422538801 or email

[email protected]

Product support 7 days a week
Exclusive invitation to our product training group to learn more about the products
Weekly updates and stories about the benefits and unique aspects of Sisel products
Product knowledge training, and information from myself as a Nutrition and Health Coach and my sponsor, Dr Curt (Chiropractor) who has extensive product and health knowledge
Opportunity to work towards getting your products for free and being supported by the fastest growing online Sisel team globally.

About SISEL Max Motion  Full-Spectrum, Joint-Support Equine Formula
Sisel MAX Motion is a unique, full-spectrum joint formula packed with essential active ingredients that support all 18 synovial joints found in horses. This comprehensive equine formula is designed to nutrify and support recovery in horses suffering from stiffness and joint injury.
"Equine nutrition is the feeding of horses, ponies, mules, donkeys, and other equines. Correct and balanced nutrition is a critical component of proper horse care." Ref.
Key Ingredients
Formulated with Boswellia, Beta Glucan, and MSM to support your horse's joints while maintaining comfortable mobility.
Contains a full range of Collagen Peptides, Collagen Type II, Glucosamine HCl, Chondroitin Sulfate, and Hyaluronic Acid to promote healthy joints.
Made with Fulvates, Vitamins, Minerals, and other nutrients to support healthy bones, cartilage, and connective tissue.
Now your horses can receive the same great health-promoting benefits as you do, with this fabulous, full-spectrum equine supplement.
Features and Benefits
Formulated and designed by horse lovers for hardworking, middle-aged, and older horses who need additional joint support to maintain flexibility and optimal joint functionality.
Promotes the production and repair of cartilage and connective tissue.
Designed for ultimate performance.
 Supports senior horse health.
Supports immune system.
Flavor-free with no added fillers, made for easy consumption
Directions for use
DAILY USAGE
Under 600 lbs …………… 1/2 scoop (15g)
600 – 1,200 lbs……………..1 scoop (30g)
Over 1,200 lbs ……. 1-2 scoops (30-60g)
Ingredients List
1 Scoop: 30g
Serving Per Container: 30
(Boswellia Serrata, Fulvates, Manganese Sulfate, Boron Glycinate, Limu Moui)
Beta Glucan 350 mg
Hyaluronic Acid (Sodium Hyaluronate) 100 mg
Proprietary Blend
Inactive Ingredients: Alfalfa Meal 360 mg
Glucosamine HCI 5,000 mg
Methylsulfonylmethane (MSM) 4,200 mg
Collagen Peptides 2,000 mg
Collagen Type II 2,000 mg
Chondroitin Sulfate 1,200 mg
Ascorbic Acid 1,000 mg
ALLERGENS:
May contain shellfish
Ingredients Label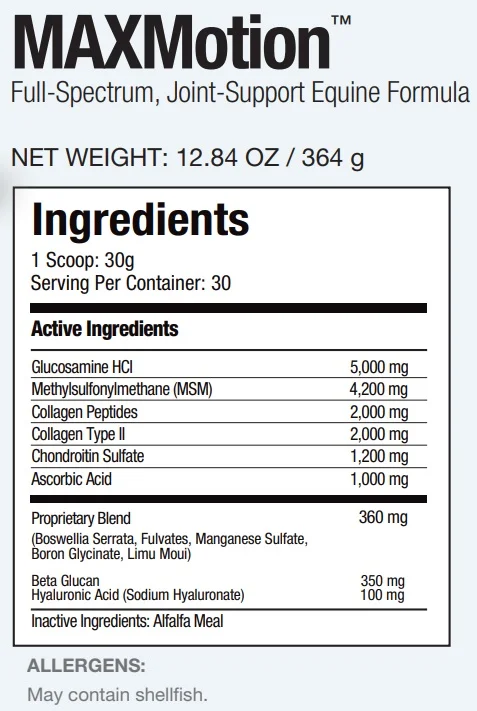 Caution
FOR HORSES ONLY
Intended for equine use only. Not meant for human consumption. Safe use in pregnant animals or animals intended for breeding has not been proven.
Consult with your veterinarian before using this product in animals: with clotting disorders; being treated with anticoagulant medications; diabetes, or
any metabolic disorder causing hyperglycemia; or a history of urinary tract stones.
Testimonial and Reviews
Please email me for testimonials about this product: Sisel International Distributor, Nutrition and Health Coach Katie – [email protected]
Additional Information
References
Factsheets and Brochures
Sisel-max-motion-equine-formula-product-factsheet
Related Videos
Related Pages
Disclaimer
These statements have not been evaluated by the Food and Drug Administration. This product is not intended to diagnose, treat, cure, or prevent any disease.
Last Updated on June 30, 2023 by Katie Sisel Distributor