SpectraMaxx Provides Powerful Antioxidant Support!
Live Longer. Enjoy More!
Our mission is to hold ourselves to the highest possible standard of ingredient integrity. We will always give you the safest, most-effective, non-toxic ingredients to keep your life and family safe, healthy, and happy
Depleted Environment + Stressful Lifestyles = Trouble
Today's lifestyle demands a never-ending parade of non-stop work, fast-food diets and sleep-deprived nights. nutritionally depleted soil and thousands of man-made chemicals have found their way into our food and environment so that even when we think we're eating well, we aren't getting the nutrition we need to protect and sustain our bodies. In fact, what we eat today may have up to 75% fewer valuable nutrients compared to plants of only 50 years ago. As the nutritional value of the foods we depend on to keep us healthy has decreased, the environmental threats to our health have increased. Clearly, we all need additional nutrition to stay healthy.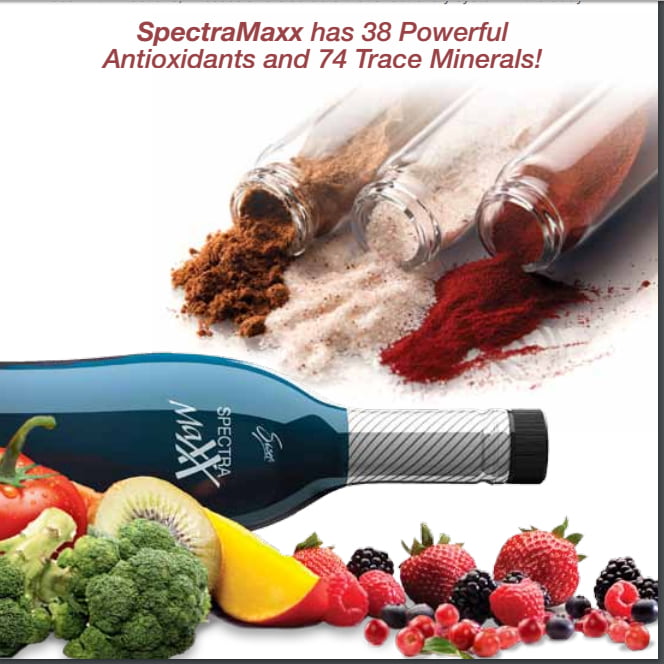 Fill In The Gaps In Your Diet
The Dangers & Damages of Free Radicals
With hundreds of new man-made chemicals created each year, we now have over 2,200 groups of free radicals that assault our bodies every day. These rogue molecules cause cellular decay, corroding our bodies like rust on an old car. They accelerate aging and threaten our health by creating oxidative stress. Numerous scientific studies have shown that oxidative stress can lead to a myriad of physical problems; including high blood pressure, diabetes, increased cholesterol, premature aging, wrinkles, arthritis, impotence, and cellular deterioration, among others.
So while the nutritional value of the foods we depend on to keep us healthy has decreased, the internal unseen threats to our health have increased.

Trace Minerals
SpectraMaxx Contains 74 essential trace minerals, recognized as vital for more than 2,000 essential biological functions.
Organic Fulvic Acid
This substance is used by plants to transform minerals in the soil into ionic molecules absorbable by the roots, making trace minerals more readily absorbable to the plant, and potentially to our bodies.
Antioxidant Fruit & Vegetable Blend Our unique blend contains 38 intensely powerful antioxidants from fruits and vegetables delivering effective protection against multiple free radicals that cause aging.
Because different foods have unique molecules that scavenge specific free radicals, no single super fruit or vegetable can address all the harmful free radicals our environment produces every day. SpectraMaxx contains 40 highly concentrated, intensely powerful antioxidants that create the broadest spectrum of antioxidants the world has ever seen. SpectraMaxx has been specially formulated to fill these gaps we now face by giving us the widest possible array of essential trace minerals, antioxidants, energy-boosting vitamins and phytonutrient complexes, all in less than one ounce. SpectraMaxx also contains organic fulvic acid, which supports the body's natural ability to readily deal with infections, illnesses and disorders that affect every system in the body.
SpectraMaxx has 38 Powerful – Antioxidants and 74 Trace Minerals!
Try ALL of our Sisel Longevity Products
®FuCoyDon
Is an extremely potent, bio-available, restorative, liquid supplement that supports cell regeneration, promoting the health of nearly every system in your body at a cellular level. It is a water-soluble dietary fiber and an essential part of Sisel's Triangle of Life. FuCoyDon is a powerful anti-oxidant that demonstrates anti-inflammatory properties.
Eternity®
An intensely concentrated, synergistic blend of resveratrol and three essential key ingredients in a variety of macro- and nano-sized nutrients for amplified bioavailability and vitality. This life-enhancing, highly potent liquid supplement may be the most significant factor ever discovered in the history of human health for promoting youthful vitality. Eternity is an essential part of Sisel's Triangle of Life.
SpectraMaxx®
SpectraMaxx fills in the gaps found in our modern diets by providing the broadest spectrum of antioxidants and trace minerals ever contained in a  single bottle. By creating this powerful supersaturated formula, Sisel has created the world's first megatonic. SpectraMaxx is also a part of Sisel's Triangle of Life.
TS-X®
Powerful support for your telomere health. This is your advanced, botanical, DNA-level support to fight aging and make your body feel and act young!
TSX represents one of the most amazing developments in the history of anti-aging science providing incredibly affordable telomere support.
Sisel Dietary Supplements Line Highly advanced supplements providing unprecedented, powerful health support. Our broad product line offers the most advanced blends of essential vitamins, antioxidants, minerals, and trace minerals that support a broad spectrum of functional and general health needs.
* These statements have not been evaluated by the Food and Drug Administration. These products are not intended to diagnose, treat, cure or prevent any disease. Seek advice from your health professional if you are unwell.
Last Updated on March 27, 2023 by Katie Sisel Distributor