Fire and Ice Tea Review
My FireNIce Tea Review. What can I say, Fire and Ice is my favourite daily drink. It is great all year round. With just one taste, you'll realize the difference. Vitamins B and C and 100 mg of Buffered Caffeine will give you a massive lift !!
After reviewing FireNIce I found it contains the following B Vitamins 1, 2, 3, 5, 6, 7, 12 plus Vitamin C and 100 mg of slow-release buffered caffeine. I found increased mental clarity and energy! My appetite is definitely curbed between meals. It's perfect for weight loss!
If you haven't tried Fire N Ice Tea, you're missing out on a tasty way to quench your thirst while supporting weight loss. Fire N Ice Tea is an ideal soda (or energy drink) replacement for diet/health conscious people. Are you sick and tired of drinking sugary beverages that are loaded with calories and nothing else? If the answer is yes you might like to try a sample of FireNIce today. Send me an email and I would be happy to post you one!




Natural Weight Loss
Are you wanting to lose weight, naturally, FireNIce is your friend. Turn up your body's thermostat and help your body to lose weight, using utilising the low glycemic sweeteners and thermogenic properties of this incredible drink. Plus you can support your body by providing it with the vitamins and minerals it needs.
There are lots of reasons to switch to Fire N Ice Tea, including:
No high fructose corn syrup – uses only low glycemic sweeteners like natural pomegranate juice
Increases metabolic rate – gives your body a boost of energy
Turns up your thermogenic rate – helping your body to burn fat, naturally
Energizes without the crash – no sugary crash like energy drinks provide
Increased antioxidants – helps fight free radicals, aging
Get a good dose B Group Vitamins
Green tea compounds providing great antioxidant support
Ingredients combine to help support you in your weight loss program
Great boost to your energy level
Why Margaret from Sydney Australia Loves FireNIce Tea
"I cannot believe how good Fire'n'Ice is. This morning – feeling exhausted after a long week – I had the Fire'n'Ice and literally five to ten minutes later feeling awake and energised!! What an amazing product!!"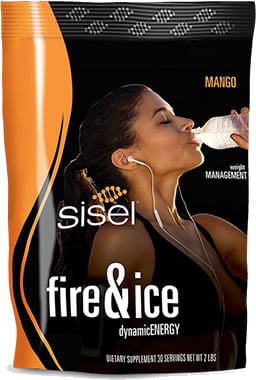 Sisel Tea Products
Sencha Green Tea
Sisel has one other great tea product in the range. Sencha Green tea is perfect for the immune system support. What's great about Sencha Green Tea is that it doesn't contain the extra bitter taste of traditional green tea. Plus it has added ingredients to further enhance its health properties. Who wants to relax? Sisel Té Sencha Green Tea provides a calming, stress-relieving state that will not only calm you, but will energize your mind at the same time. Sisel's proprietary blend contains Chaga, Bacopa and Gotu Kola, which increase the health benefits.
Find out more about Sisel Black Instant Coffee
Last Updated on March 27, 2023 by Katie Sisel Distributor