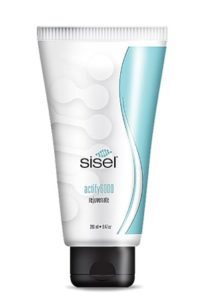 Revolutionary ingredients deeply moisturize the face up to 6, 000 percent in vitro that link up within the skin's own replenishing structures. Powerful antioxidants for sunlight keep the face free from environmental stress.
Sisel International Actify 6000 Face and Neck Cream Factsheet
Every day your face is subjected to environmental stress that damage and dry out your skin. With the steady stream of insults, the outcome is a tired-looking, lackluster face. With the myriad of products on the market, finding a real solution can be a challenge. No need to look further! SISEL® has found the latest scientific breakthroughs to formulate the most complete and intense moisturizer to hydrate and protect your face.
Keeping skin hydrated is critical to its health. The skin, in its own defense, contains amino acids and other building blocks that are responsible for keeping the skin moist and supple. Collectively these compounds are called the Natural Moisturizing Factor (NMF), and their function is to attract, absorb, and retain water.1
Our formulators, wanting to create a truly phenomenal moisturizing cream, set out to find ingredients that would support or function much the same as the skin's NMF. After much research, they were successful in finding the most hydrating and nourishing constituents that enhance (Salicornia herbacea extract, hydrolyzed wheat protein) or behave like the NMF (sodium PCA, hyaluronic acid, and Ceramide III).
Salicornia herbacea extract is a protein that is harvested from sea plants. These proteins not only support the NMF, but a scientific study proves that they will actually increase water content by 6,000%. 2
Hydrolyzed wheat protein works synergistically with the other ingredients to perfectly moisturize the face. It has a unique hydrating complex that enhances both the moisture-balance and film-forming properties of your face to keep it smoother and softer for an all over radiance. 3
Sodium PCA is a humectant that occurs naturally in the skin. It is derived from amino acids and is able to retain an optimal moisture level. In addition to its non-irritating properties, it also features an optimum delivery of essential amino acids.4
Hyaluronic acid is an extraordinary component that minimizes the appearance of fine lines and wrinkles by restoring elasticity and plumping of the skin tissue. With age, the production of hyaluronic acid decreases, making it a welcomed addition when trying to avoid the natural process of aging. Another benefit of hyaluronic acid is the soft, smooth, silky feel of your face. 5
Ceramide III works from the inside out by reinforcing the natural lipid barrier with fatty acids. This barrier protects the skin from external influences and moisture loss. Ceramide III is highly effective and optimal in performance because its molecular structure is identical to the skin's.6
In addition to hydrating the face, Actify 6000™ features antioxidants and ingredients that support sundamage that safeguard your skin from the environment. With more than 10,000 free radical attacks on every cell daily, having powerful antioxidants such as ergothioneine, vitamin E, and the very powerful, resveratrol provides unparalleled interaction against these assaults.
Ergothioneine is a broad spectrum, potent antioxidant, and one that is particularly preferred for the skin .7 It supports the increase of fatty acids in the mitochondria, which in turn boosts oxygen efficiency and energy levels in the cell.8 It is also an efficient interceptor of skin-damaging free radicals.
Vitamin E protects cell membranes and other fat-soluble body cells. As it scavenges and neutralizes free radicals, it also diminishes the effects of environmental pollutants.
Resveratrol is an incredibly powerful skin antioxidant that has been analyzed the past few years for its unique anti-aging properties. With the concerns regarding photoaging-the premature wrinkling of the skin caused by sun overexposure-finding ingredients that truly aid in the solution has become a priority. Resveratrol protects against environmental stresses, and its anti-inflammatory properties soothe, revitalize, and calm the delicate skin on the face, throat, and hands.
In combination with the many conditioning and protecting ingredients, our formulators added sun skin support that safeguards your face. These ingredients, octocrylene and ethylhexyl salicylate, defend against the harm sunlight may cause even before it can penetrate the skin, giving the face an added boost against the harmful effects of the sun.
Sisel International Actify 6000In enhancing your happily-ever-after, Actify 6000™ contains a neurocosmetic, phytoendorphins, that makes looking good and feeling good a literal statement. Each day, your body produces endorphins (neuro-peptides) that bind to certain receptors in the brain and cause mood-enhancing activity. Phytoendorphins, endorphin-like constituents from plants, work like your body's own endorphins.9 When tested, the results reported that 80% of the women said their skin felt "relaxed and happy."10 In the same study, almost 90% stated that their skin felt "even and smooth."11Phytoendorphins not only give you a sense of wellbeing, but they moisturize as well.
Enhance your real beauty with the soft, energetic radiance of healthy skin. Every face tells a story. Enjoy the "happily-ever-after" you deserve with Actify 6000™.
Sign Up with Sisel and Buy Now
References:
1.http://www.lni.wa.gov/Safety/Research/Dermatitis/files/skin_phys.pdf
2.Saliporine 8 — Two Page — Barnet
3.Croda-Cropeptide W
4.http://www.vitaminstuff.com/definitions/definitions86.html
5.http://www.frankenchemie.de/img/DS_HyaCare_e.pdf
6.http://www.centerchem.com/Capability.asp?CapabilityID=760&Cat1ID=20&Cat2ID=90
7.http://www.barnetproducts.com/customer/pdfs/kiss/Thiotaine%202007-5.pdf
8.iBid
9.Schmid D and Zulli F. Role of beta-endorphin in the skin. SOFW Journal 131, International Journal for Applied Science, 2005.
10.Happybelle-PE — Kemira Presentation
11.iBid
* These statements have not been evaluated by the Food and Drug Administration. This product is not intended to diagnose, treat, cure, or prevent any disease.
Last Updated on April 13, 2023 by Katie Sisel Distributor