Allan has been working with the ingredient in Sisel Silver for many years and has some incredible stories. During yesterday's Sisel Team call I spoke with Allan Hordal. Allan shared how he has used the ingredient in Sisel Silver;  AG404.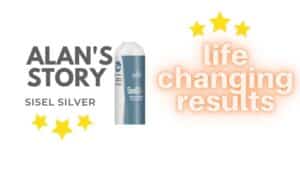 Allan was involved in an accident and had to have reconstructive surgery. What was interesting about listening to Allan's story is that he took control of the situation directed his outcome and with the support of the Sisel Silver Ingredient and other Sisel nutritional products he was able to support a successful recovery. Sisel Silver is not like other Colloidal Silver Products, so if you have tried Colloidal Silver then its not the same as Sisel Silver AG404. If you would like to join our Weekly
Sisel Product
Discussions please join our Facebook Group, link at the bottom.

Related:
Last Updated on March 27, 2023 by Katie Sisel Distributor