Sisel Ingredients
The Sisel safe seal represents our commitment to develop and manufacture only the most powerful, safe and effective products which are free of potentially harmful ingredients. Here is a helpful "watch list" of only a few of the potentially harmful ingredients that may be contained in common personal care and cosmetics products used every day.
Avoid these potentially harmful ingredients
Go into your bathroom and check your product labels for:
Acetone
Alpha-hydroxy acids
Aliminum
Benzophenones
Biszophenones
Bisphenol A
DEA (Diethanolamine)
Dioxins
Fluoride
Formaldehyde or Formalin
Glycerin
Lanolin
MEA
Mineral Oil
PABA (Para Amino Benzoi Acid)
Parabens (Methyl, Isobutyl, Ethyl-Butyl- Propyl-)
Propylene Glycol
Phthalates
Quaternium 15 & 51
Sodium Lauryl Sulfate
Sodium Laureth Sulfate
Talc
Toluene
TEA
Many More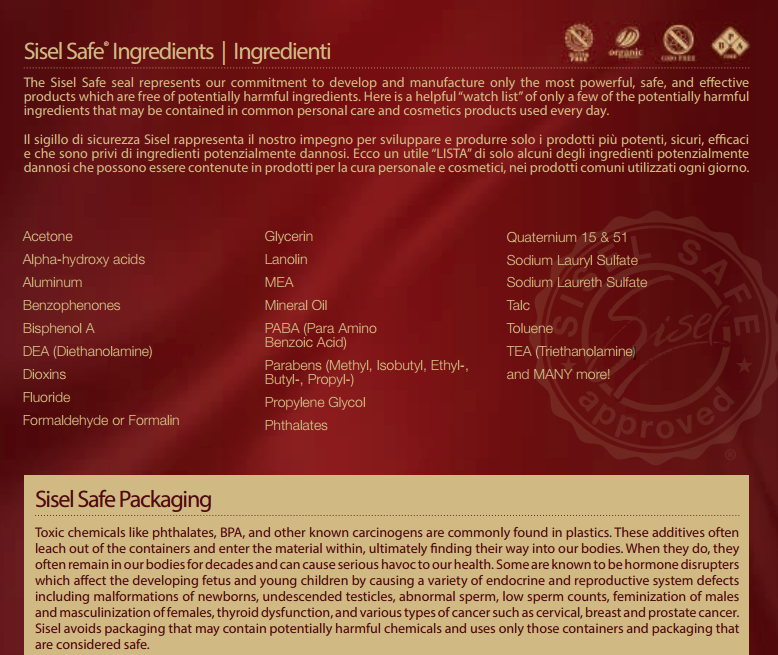 Sisel Safe Product Packaging
Toxic chemical like phthalates, BPA and other known carcinogens are commonly found in plastics.
These additives often leach out of the containers and enter the material within. Ultimately finding their way into our bodies. When they do, they often remain in our bodies for decades an can cause serious havoc to our health.
Some are know to be hormone disrupters which affect the developing fetus and young children by causing a variety of endocrine and reproductive system defects including:
malformation of newborns
undescended testicles
abnormal sperm
low sperm counts
feminization of males
masculinization of females
thyroid dysfunction
various types of cancer such as cervical, breast and prostate cancer
Sisel avoids packaging that may contain potentially harmful chemicals and uses only those containers and packaging that are considered safe.
Last Updated on March 27, 2023 by Katie Sisel Distributor