Product Review of Sisel's Intrepid. Before and After photos.
I tested out Sisel's Intrepid the other day. This is my review. Firstly I am 42 years old. I feel my skin is pretty good for my age thanks to Sisel's Timeless Renewal Skin Care System.
I applied Intrepid around my eyes and on my forehead. I could feel it tighten the skin and smooth out nearly all my lines pretty quickly. It also created a more even skin tone with a smoother complexion, which I loved.
Below is a before Intrepid photo and then an after Intrepid photo.
These photos are untouched and have NOT be altered in any way.
First photo taken just after jumping out of hot shower so my skin was little red.
Second photo was after applying Intrepid.
Intrepid takes 30 minutes to take full affect
Intrepid even continues to tighten for a few hours.
It lasts all day.
You can apply makeup over the top.
Sisel's Intrepid allows your skin to breathe.
Completely non toxic. Sisel Safe with no harmful ingredients.
Product Review Summary
Intrepid is a brilliant skin care product / cosmetic. If you are 40+ years old and you apply Sisel's Intrepid to your skin correctly, then you can easily make your skin look like a "20 something" year old. So looking 10 to 20 years younger is achievable with this product. Intrepid is suitable for both men and women. To view more before and after photos of Sisel's Intrepid click here.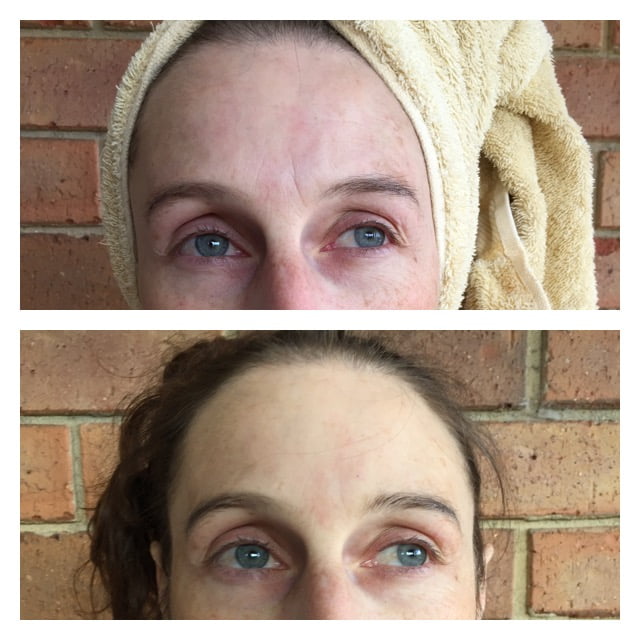 Last Updated on March 27, 2023 by Katie Sisel Distributor