Learn How to "Turn the Bottle" and Safely Shop for Quality Supplements
Every year, more than 23,000 people end up in emergency rooms because of a bad reaction to a dietary supplement. The FDA does not approve or review any non-prescription supplements because they are exempt from their jurisdiction. That's why it's critically important for supplement users to do their homework before they buy and ingest any over the counter products. Consumers need to understand why they need a supplement, then do their due diligence on supplement manufacturers before they buy. Research the known benefits and risks of any supplement you intend on using before you use it.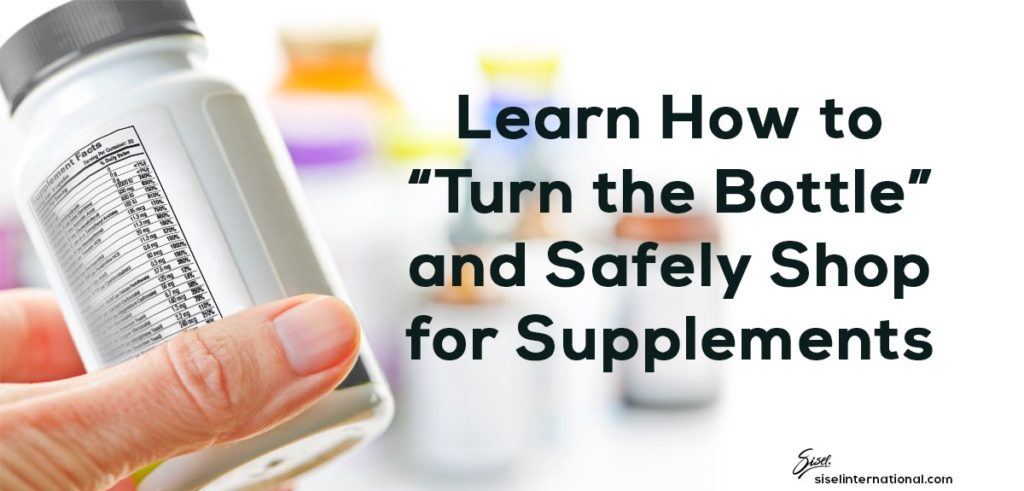 The most important three words are, "turn the bottle" — learn to read the entire label thoroughly. When you are shopping for a supplement, look for a couple of things up front. Look for a product that has been manufactured under the Good Manufacturing Practices. This stamp (GMP) means that the maker of the supplement adheres to a set of requirements in their manufacturing plant that meets or exceeds industry standards. Also look for companies that issue a certification of analysis, which means the manufacturer has certified that each and every ingredient used in the making of the supplement meets specified quality standards.
Shoppers should also pay attention to the therapeutic dosage amount of the active ingredients. In order for a supplemental ingredient to work as advertised, it must be formulated with an amount of that active ingredient that exceeds the therapeutic dosage requirements. If it is not at least at the minimum levels, it will not deliver the advantages it promises. Avoid supplements that don't list ingredients separately or that don't contain enough of the ingredient to be considered effective. To research therapeutic dose levels go to sites like examine.com.
Another item supplement shoppers need to heed is the expiration date. The date the supplement is considered to be of little or no use should be stamped clearly on the label or bottom of the bottle. If you are ordering supplements online, be wary of any product that does not have a copy of its full label on its website, listing all the ingredients, both active and inactive and the percentages they contain.

When you are searching for the safest supplements, try to avoid private label products at all cost. Large variety and grocery store chains do not have the research facilities or the expertise to know how to formulate dietary supplements, so they hire Private Label manufacturers to create some generic supplements for them to market. Seldom do these companies have any expertise in the making of safe or effective supplements, so they just formulate a hodgepodge of ingredients and put the store's name on them. These are known as non-friendly consumer companies and they should be avoided at all times.
Another area you need to be aware of when it comes to supplements is cost vs. value. Skip the cheap-o varieties unless your research has proven their trustworthiness. On the other hand, just because something is expensive, it doesn't mean it's any more effective. Do your homework before you buy and research the reputation of the makers of the supplement. If the maker's website lacks any contact information, skip it. Due diligence will pay off in the long run.
Always pay attention to your prescription drugs and how they may interact with various supplements. If you are on any kind of prescription medication, be sure it does not produce any adverse reactions to any ingredient listed within the supplement you plan on taking. Consult your health care professional and make sure you're in the clear from prescription interactions.
Not All Dietary Supplements Are Created Equal
Finally, use common sense when shopping for supplements. Read reviews online; speak to friends and family to see if anyone you know has tried the supplement you are considering; look up the Better Business Bureau for the rating of the manufacturer; and always check out the company's website to see if there are any red flags associated with the firm. You can also look up independent lab results for the product by going to sites like labdoor.com or consumerlab.com.
Last Updated on March 27, 2023 by Katie Sisel Distributor